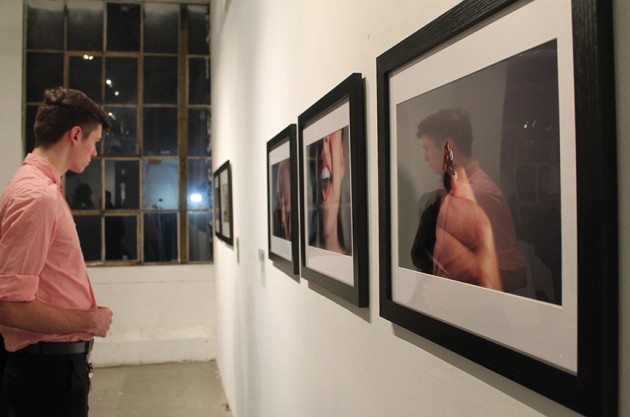 The Fix magazine, a Point Park University-run fine art publication, hosted its first Juried Show: An Exploration of Conceptual Art on Saturday. There were 47 pieces showcased in total, ranging from a rephotographic essay to collaged pornography to silver gelatin abstractions.
"A juried show allows for a wide variety of selections that are edited through by experts," Hannah Harley, senior photography major and Administrating Curator of the show, said in a phone interview last Sunday. "We were fortunate enough to benefit from the expertise of Jessica Beck and David Oresick. These jurors were also gracious enough to be our curators, so they selected the work from the large amount of submissions, and then they arranged the work in the space."
The exhibition took place from 6:00 p.m. to 9:00 p.m. at the Mine Factory on North Braddock Avenue and featured 16 student artists. The exposition was entirely free and open to the public. A shuttle was available for students and catering was provided at the Mine Factory. The jurors were Oresick, Director of the Silver Eye Center for Photography, and Beck, Assistant Curator of the Andy Warhol Museum.
April Friges, assistant professor of photography at Point Park, explained her role in the juried show at an interview at the Mine Factory on Saturday.
"I put it together. The students came to me and said they wanted to do a juried show, and I told them, 'Okay!' [Harley] did a great job of getting it all together and sequencing the work," Friges said. "I'm mainly the students' puppet. They have a vision , and all I do is try to support them and help them get experience. This experience is something they can't learn in the classroom."
Julie Griffith was one of the artists whose work was featured at the juried show. The junior photography major has been involved with the Point Park Photography Collective since her freshman year and is the head layout editor for The Fix Magazine, although this was her first gallery.
"Getting framed and having my work out here is so dreamlike," Griffith said during an interview Saturday at the Mine Factory.
Her photos depicted the idea of growing up and seeing some of her most familiar and favorite places become less beautiful.
"The government cut spending to keep up the lake community. Lots of places became abandoned. My parents had a lake house there, and I just had to watch everything around it fall apart," Griffith said. "The state could easily bring back funding and reopen, but the longer it's closed, the more money it takes to start everything over again. I grew up here. I wanted to capture the stuff that I remembered."
Griffith credits the Administrating Curator of the juried show and previous Co-Editor/Content Coordinator for the Fix Magazine, Harley, with giving her the confidence to place her work in the juried show.
"I was helping put everything together, really, and Hannah said, 'Put your stuff in!' So I did," Griffith said.
"For some, this is the first time their work has been hung in a gallery. This is our way of closing out the year outside of the senior thesis," Ren Rathbone, senior photojournalism major, said at the event on Saturday.
Rathbone collaged a photograph of fashion photographer Terry Richardson with the words "cause I'm a creep" fixed over the images.
"He's a disgusting human. This piece was made out of frustration not only that he exists, but also because of his acclaim," Rathbone said.
Ryan Maine, a senior photography major, displayed three pieces, titled "Internal and External," which focused on themes like love, hate and regret within the context of past and present spaces.
"I'm just now starting to make work surrounding depression. I was recently diagnosed with bipolar disorder, and I'm trying to cope with it," Maine said at the event. "Right now I'm playing with space and a lot of light to display how an image affects how I feel internally."
Students from all majors were encouraged to come to the juried show. Daymon Long, a sophomore cinema production major, came to the show because he "just loves art."
"Being a cinema major, I love to see art in other mediums besides film. I love to see what inspires and moves people," Long said at the event.
Among the 16 artists, three were chosen to receive recognition from the jurors. Among those who received honorable mentions were Morgan Richards, a sophomore photography major and Nicole Fritz, a BFA photography major.
"My pap is always on my mind, which was more of a reason for me to do this project," Kaylin Herzer, junior photography major who won best in show with her series of silver gelatin prints of recreated childhood memories, said at the event. "To help face the loss of my pap, I decided to re-photograph moments from my childhood. I wanted to highlight the differences between then and now."
Herzer was more pleased with the impact she made on those that visited the show than the $350 scholarship she received for winning best in show.
"I'm just really happy that people were impacted by my work," she said.
Beck said she was more than happy to be part of the juried show.
"I was happy to participate as a juror. It's always really exciting to see student work and be challenged to think about what's happening in Pittsburgh creatively, so it was nice. The work that we picked is great work on its own, so it was so nice to see younger talent and really good talent."
Harley said she appreciates Point Park's support and the efforts from April Friges for this opportunity.
"It is incredible to know that I was able to help bring something to this incredible photography community before graduation. It's wonderful to have this kind of overwhelming enthusiasm and support from the artists and this surrounding community," she said.