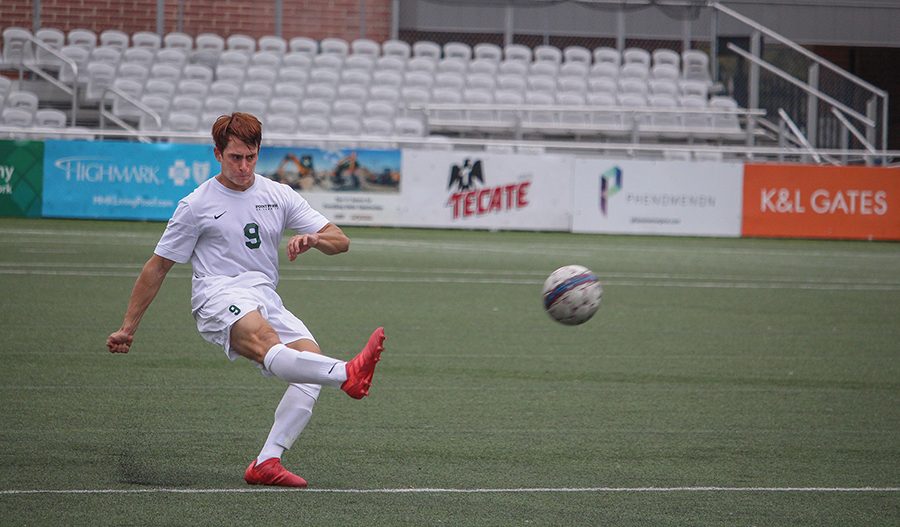 Robert Berger
The story for the men's soccer team this week was close games that did not end in their favor.
They arrived at Highmark Stadium Thursday to host the No. 7 team in the country, Rio Grande.
Point Park held off the RedStorm's offense until a strike by Rio in the 27th minute. That would be the only goal scored of the entire 90 minutes.
Rio Grande showed why their defense is ranked the top in the country, delivering their seventh shutout in eight games and remaining undefeated.
The men came back on Saturday for an evening game against West Virginia University Tech (WVU Tech.), who is receiving votes in the National Association for Intercollegiate Athletics Top 25 poll.
The Golden Bears struck first in the 11th minute, but play was fairly distributed on both ends.
The Pioneers had only seven shots compared to WVU Tech's 27, and only tallied one shot on goal, a goal by junior defenseman Marc Bentley in the 80th minute.
Bentley's tying shot late in the game would be the second and final goal scored in the game.
As regulation came to an end, both teams prepared for the first of two ten-minute overtime periods and fans in the stands echoed throughout Highmark Stadium.
With no goals scored, the game continued into another ten minutes. After 110 minutes of play, the game ended in a 1-1 tie.
The Pioneers play their next four games at home, with their next one coming on Thursday against River States Conference opponent Ohio Christian University.