Emilee Fails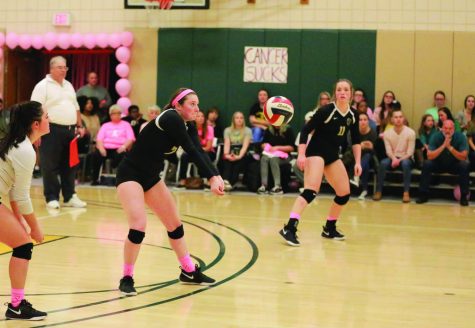 The Pioneers bumped their record up to 7-1 after the Emileigh Cooper Memorial Classic last weekend.
This is the third season the Pioneers have made an appearance at the tournament hosted by University of Rio Grande. Point Park went 1-3 in 2017 and 3-1 in 2018. This year, the Pioneers finished undefeated.
"We aren't an easy team, and [other teams] need to understand that when they see Point Park volleyball on their schedule, it is going to be a fight to win or even take a set from us," freshman Taylor Small said.
The attending teams saw a new venue this season as the tournament moved to the namesake's alma mater, Jackson High School. Rio Grande volleyball assistant coach Emileigh Cooper passed away in 2016 in a car accident, and the university holds the event in her honor.
On day one, the Pioneers went from playing the minimum amount of sets to the maximum. Point Park swept host Rio Grande, and followed with a win against Shawnee State University.
The matches between the Pioneers and the Red Storm were close, but working together toward one goal came naturally for the team.
"This year we have great team chemistry on the court with one another, and we work very well together, which I think is a big part of why we are doing so well," sophomore defensive specialist Ashley Castelli said.
Outside hitters Haley English and Small dominated the Pioneers' side of the net with eight kills each, and middle hitter Jazlyn Rozier and right-side Maria Ferragonio put down seven apiece. Setters Julia Menosky and Brittney Bianco almost evenly split the match with 18 and 17 assists, respectively.
Shawnee State outkilled Point Park, but the Pioneers boasted a higher hitting percentage to lead the way to the 3-2 victory, conquering the 2-1 deficit they faced.
Leading the Pioneer offense was Small with 17 kills. English followed closely behind with 16 kills, and Ferragonio and Rozier chipped in 12 kills each.
"I go into every game excited to see what I can give the team across the net the game they came here for," Small said, referring to her performance at the net.
English led the defense with 23 digs, and Ferragonio picked up 16 of her own, securing double-doubles for both athletes. Castelli played a large role in the back row picking up the team-high 18 digs.
Menosky and Bianco both put hands on the ball recording 31 and 16 assists, respectively. The statistics sheet reveals Rozier claimed half of the team's total aces in her season debut.
Day two nearly mirrored day one as Point Park opened the day with a sweep against Bluefield College and finished with a back-and-forth five-set match against West Virginia Tech. The latter match saw scores of 25-13, 19-25, 25-22, 19-25 and 15-13.
"We did really well this weekend, but I think we just need to work on staying more constant throughout the game so we don't have as many up-and-down moments," Castelli said.
Every Pioneer that attempted to attack the ball recorded a kill. Small once again dominated the net with 20 kills, and English collected 11. English finished with another double-double with the addition of 26 digs, and Menosky double-doubled with 40 assists and 12 digs.
The Pioneers will spend the next week prepping for a non-conference match-up against Washington and Jefferson on Sept. 10. Point Park will play its home opener a week after and host Salem International University.
"After these past two weeks of playing, I'm really excited to see what the season holds," Ferragonio said. "I think it's especially cool because, for being a fairly new team, we have great team chemistry, and I think it will really help us this season."