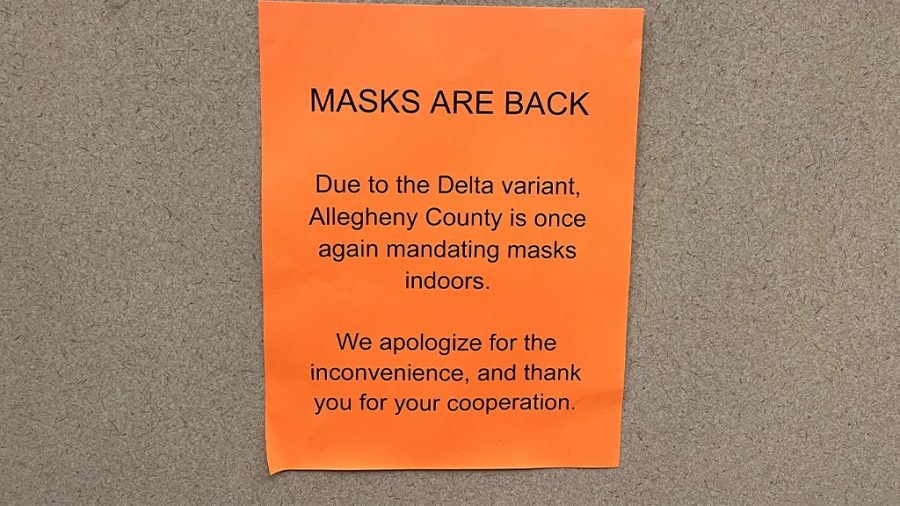 Amanda Andrews
On June 29, 2021, Point Park University announced its decision to require COVID-19 vaccinations for students participating in face-to-face classes and campus activities for the 2021-2022 academic year. Following this decision, university President Don Green reinstituted mask guidelines effective as of August 13, due to growing Delta variant cases within Southwestern Pennsylvania.
With eight states: Alabama, Arkansas, Florida, Georgia, Louisiana, Mississippi, Nevada, experiencing increases in COVID-19 cases and hospitalizations, negotiations of mitigation efforts have become prevalent within Pennsylvania for the return of fully in-person operations for businesses and schools this fall.
"The key to slowing the spread of COVID-19 is getting vaccinated, since they've been proven to be effective, it's important for everyone who can to get it," Allegheny County Health Department Director Debra Bogen said in a press conference held on August 18.
Bogen, along with Allegheny County Executive Rich Fitzgerald, discussed COVID-19 mitigations and infection rates within the county.
"Cases within the county are higher than last month," Fitzgerald said. "With schools going back soon, it's important for everyone to be vaccinated if they're eligible. Masks should be worn for those who cannot receive the vaccine. It's best to keep them safe."
The department reports over 200 new cases daily, resulting in Allegheny County having a 'high level' of community transmission.
Over 750,000 citizens are partially or fully vaccinated, but the Allegheny Health department still encourages more people to be vaccinated and wear masks in public spaces.
"We don't know the long-term effects of the vaccine or wearing masks, and there will always be exceptions to any vaccine,' State Representative Tim O'Neal (R-Washington) said. "Despite this, science points to the vaccine outweighing other difficulties and has been proved to be safe and effective. Although I think it should be up to personal choice in choosing to be vaccinated or not, I strongly recommend that those who are able to get it, should get it to decrease their risk."
According to John Hopkins University, vaccinations have proven to be one of the most effective mitigation efforts, lowering severe risks of severe infections by 90 to 98%.
"I think that these [masks and vaccines] have definitely been effective in helping slow the spread," Sam Wasilak, a rising sophomore at Point Park University said. "I think that school's requiring these are the right thing to do. It's important to know the risks if they choose to not wear a mask or get vaccinated."
With mitigations in place, Pennsylvanians' hope to experience some sense of normalcy for the approaching fall months.
"I think that the vaccinations are the right idea to decrease your chances of contracting COVID-19," Emma Liggett, a junior at Trinity High School in Washington, said. "I'm afraid that the Delta variant will create a downhill spiral. I hope more people can get vaccinated and that we can return to normal. I miss the social interactions and normality."
Schools and businesses within Pennsylvania continue to reevaluate these mitigations and speak with legislators and health officials for guidance on the best methods to slow the spread of COVID-19.
The Allegheny County Health Department, Mayor Bill Peduto and Representative Conor Lamb did not respond to requests for comment.