Honors Program members tell all about the program
Written By Cassandra Harris, Staff Writer
September 28, 2022
On the fourth floor of Lawrence hall sits the Honors office. The glass doors give a glimpse inside, but hide plenty of questions.. What even is the Honors Program? What does it do for students? And what is the honors workload like? Let's take a look. 
Judging Java: Point Perk Revisited
Written By Jake Dabkowski, Coffee Columnist
September 28, 2022
Two years ago, I wrote that "Point Perk's coffee is so awful that it wouldn't surprise me if it emerged as a frontrunner in the 2024 Republican primaries." At the time of reviewing Point Perk, our university's coffee shop, my one star out of five review was one of the most scathing reviews I had ever written.
Judging Java: Prestogeorge Coffee & Tea
Written By Jake Dabkowski, Coffee Columnist
September 21, 2022
There are a lot of coffeeshops in the Strip District. In fact, there's just a lot in the Strip District. It's a wonderful area to walk around in, and it's an even better area to walk around with a coffee. Personally, I love walking around the Strip District and just sort of vibing, so adding a...
Written By Brooke Stephens, Opinions Editor
September 28, 2022
In the case of books, I know there is a large part of the general public which do not read them. Some people also prefer audiobooks because they find them easier to listen to or pay attention to, as examples. Literature, however, has held a grip on various populations for thousands of years. Everyone deserves free, inclusive access to books, whether it be online, in a bookstore, or through a library.
Globe's Point: Your Mental Health Matters
September 28, 2022
This week the Center for Media Innovation (CMI) held a mental health symposium, which again gives us a reminder that mental health matters.
Written By Kylie Thomas, Co-Features/A&E Editor
September 28, 2022
This past weekend on September 23, one of the most anticipated movies of the year, "Don't Worry Darling" opened in theaters across the world. Part of the reason the movie was so anticipated is due to its casting of pop-star Harry Styles and actress Florence Pugh. Though the other part is because of the negative energy that seems to follow the film and its cast.
Joe Keery's music project Djo releases sophomore album
September 28, 2022
I tend to gravitate more towards older music than new releases. The newer artists that I follow faithfully are few and far between. However, one of those exceptions is indie artist Djo, who I hold to the same high regard that I do my beloved 80's favorites, and consider to be a brilliant beacon of hope for modern music.
Written By Caitlyn Scott, Co-News Editor
September 21, 2022
In an email sent on behalf of the President's Office on Sept. 12, 2022, the university announced two new changes to the university's academic structure,...
No plans to change mask optional policy despite increase in COVID-19 cases
September 14, 2022
With students entering into their third week of classes, the university has already seen a significant increase of COVID-19 cases on-campus, leading to many concerns for the health and safety of students and faculty. 
Adobe to no longer provide Creative Cloud to students
September 7, 2022
An email sent to students on behalf of the Information Technology Services (IT)...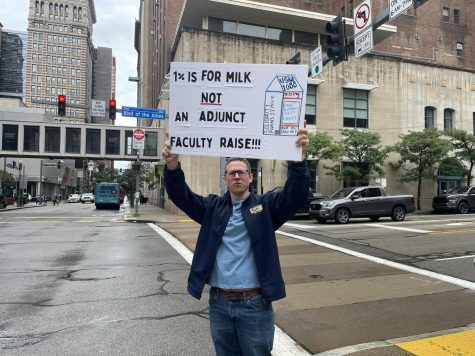 Adjunct faculty hold demonstration during freshmen move-in day
August 21, 2022
Members of the university adjunct faculty held a demonstration during freshman...
Point Park police department joins ABLE Project
April 20, 2022
Point Park's Police Department has been accepted into the Active Bystandership for Law Enforcement (ABLE) Project, a program designed to train officers to intervene if a fellow officer is violating protocol.