Written By Caitlyn Scott, News Editor
September 22, 2021
On Sept. 18, 2021, demonstrations took place outside of the United States Capitol to demand justice for citizens still facing charges in connection with the Jan. 6 insurrection within Washington D.C.
SGA swears in 15 new senators at Monday meeting
September 22, 2021
The Student Government Association (SGA) swore in 15 new Senators during Monday's legislature meeting.
Point Park professor who served as first responder with Flight 93 rescue team reflects
September 15, 2021
In remembrance of the 9/11 attacks and their profound impact, Public Administration Professor Robert Skertich shared his experience as a Flight 93 response team member in Shanksville, Pennsylvania during the attacks.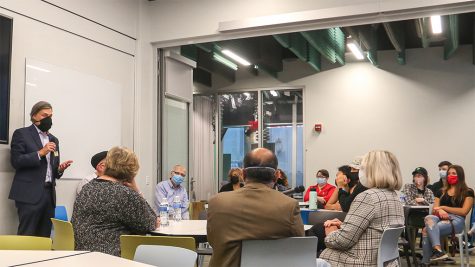 Center for Media Innovation hosts 9/11 20th anniversary commemoration
September 15, 2021
On Sept. 8, 2021, Point Park University's Center for Media Innovation (CMI) hosted a free, in-person event in commemoration of the 20th anniversary of 9/11.
Two decades of United States involvement in Afghanistan ends amid Taliban takeover
September 8, 2021
After 20 years of fighting within Afghanistan, the Pentagon and the Biden Administration...
Written By Mason Strawn, Co-Sports Editor
September 22, 2021
The women's soccer team busted out of their slump in a big way this week, winning both their match ups, beating Brescia University at home 4-0 on Thursday, Sept. 16, and Oakland City University 1-0 on Saturday, Sept. 18. The wins raise the Pioneers to 2-5 on the season.
Point Park Volleyball extends win streak
September 22, 2021
On Saturday, Sept. 18, the Point Park Pioneers Women's Volleyball team aimed to continue their win streak against the WVU Tech Golden Bears on the road. A win would mark their third straight conference victory.
Steelers bit by injury bug, drop game to Raiders to start 2021 regular season at 1-1
September 22, 2021
The Pittsburgh Steelers were beaten by the Las Vegas Raiders 26-17. Pittsburgh was coming off of a big win in Buffalo coming into the game, but couldn't repeat last week's result, losing their first home game of the season.
Steelers upset Bills in season opener
September 15, 2021
The Pittsburgh Steelers defeated the Buffalo Bills 23-16 in the first game of the new season.