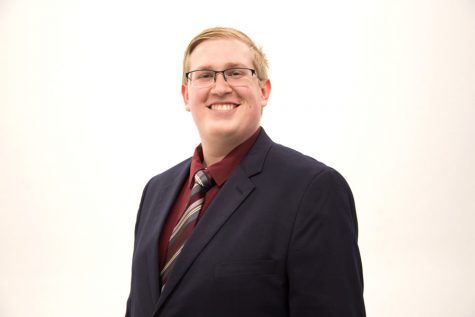 Alexander Popichak is the editor-in-chief of the Globe. He is humbled to have served during the Globe's 50th anniversary celebration this past spring. Fall 2017 marks his fifth semester on the Globe staff and has been involved with the Globe from day one of his freshman year. He has previously served as the Globe's News Editor and as Editor-Elect. The broadcast production major and broadcast production minor keeps himself busy on campus, serving on the news team at campus radio station and Globe partner WPPJ-AM, as co-executive producer of U-View's NewsNight. Popichak can be reached via the Globe's main email address,
[email protected]
or through his website,
http://alexanderpopichak.com/
.
Alexander Popichak, Editor-in-Chief
Nov 03, 2017

DEVELOPING: USG Vice President resigns

(Story)

Oct 24, 2017

Podcast explores Duquesne missing persons cases

(Story)

Oct 10, 2017

Seventh floor caught in hot water after pipe joint burst

(Story)

Sep 19, 2017

USG distributes funding to clubs

(Story)

Sep 12, 2017

Board of Trustees sides with President

(Story)

Aug 29, 2017

Library turns page with renovation

(Story)

Aug 23, 2017

Full-time faculty union reaches contract agreement

(Story)

Apr 18, 2017

Tanzilli assumes role as dean of Rowland School of Business

(Story)

Apr 18, 2017

Hennigan: increased student need drives annual tuition hikes

(Story)

Apr 18, 2017

A letter from the editor: "To give the news without fear or favor…"

(Story)

Feb 22, 2017

USG Treasurer resigns, club funding to continue as scheduled

(Story)

Feb 21, 2017

Alumnus sworn in as Pittsburgh's new police chief

(Photo)

Feb 07, 2017

The Globe celebrates 50 years

(Story)

Feb 07, 2017

A letter from the editor – Celebrating Point Park's other stage

(Story)

Jan 24, 2017

As it Happened: Point Park Media Covers the 58th Inauguration

(Story)

Jan 17, 2017

Students, staff members mark MLK day with events

(Story)

Jan 10, 2017

A letter from the editor

(Story)

Nov 15, 2016

Watch: NPR's Diane Rehm visits Point Park

(Story)

Nov 01, 2016

WPPJ's Rock-a-Thon returns for its 36th year

(Story)

Oct 04, 2016

Local journalists share experiences from campaign trail

(Story)

Sep 06, 2016

Liberty Bridge temporarily closed due to fire damage

(Photo)

Aug 30, 2016

Point Park police don body cams

(Story)

Jun 29, 2016

City celebrates birthday

(Story)

Jun 29, 2016

'Showdown' aimed to strengthen community for clubs, members

(Story)

Jun 29, 2016

SAEM students manage high school artists for WYEP 'Reimagination' compilation CD

(Story)

Jun 29, 2016

University Center screens new documentary film from Sebak

(Story)

Jun 29, 2016

Tutoring offerings expanded to students

(Story)

Jun 29, 2016

University hires new in-house mental health counselor who hopes to expand department

(Story)

Jun 29, 2016

University to feature vegetarian, vegan options for 'meatless Monday'

(Story)

Jun 29, 2016

USG experiences heightened interest

(Story)

Jun 29, 2016

Point Park hires 19 full-time professors

(Story)

Jun 29, 2016

University adopts the national trend of test-optional admissions for incoming students with hopes of broadening applicant admissions

(Story)

Jun 29, 2016

University reveals new digital signage

(Story)

Apr 06, 2016

Presidential hopeful Bernie Sanders shares platform at rally with Pittsburghers, students

(Story)

Jan 20, 2016

City to celebrate its bicentennial with events throughout year

(Story)