Pittsburgh play-by-play broadcasters visit Point Park
Point Park students had the opportunity to hear from the three biggest names in Pittsburgh sports broadcasting Thursday, Nov. 19.
Play-by-play broadcasters Bill Hillgrove of the Steelers and University of Pittsburgh football and basketball, Paul Steigerwald of the Penguins, and Point Park alumni Greg Brown of the Pirates spoke to students at "The Voices of Pittsburgh" event hosted by The Pittsburgh Center for Sports Media and Marketing.
The Center brings sports industry professionals to Point Park throughout the year. Past speakers include Mike Emrick, Merril Hoge, Dan Potash and Don Kelly.
For, Hillgrove, Steigerwald and Brown, this was their second visit in the past four years.
"It's certainly easy to get people to come back once they've been here for these before," said Center co-director Tom McMillan.
McMillan led the first part of the seminar, providing discussion topics for the panelists.
One of these topics was how they each got their start in broadcasting.
Brown said his start was out of college doing five-minute radio sportscasts for an Evansburg, Pa. AM radio station.
Hillgrove also gave credit to radio for giving him a start in broadcasting. During his college years at Duquesne, he gained experience with the school radio station where he worked as a DJ, reporting news, sports and hosting talk shows.
The difference between working on TV compared to radio was another topic McMillan pitched, as all three agreed radio is their favorite platform for play-by play.
"When you're doing radio, you can do what you want to do," Hillgrove said. "You can talk about whatever you want to."
"When you do play by play on radio, it's like you're flying a helicopter," Steigerwald said. "When you're doing play by play on TV, it's like you're on a ship and you have a crew with you and you're the captain."
Throughout the seminar, each broadcaster also shared stories from working in the industry.
Hillgrove provided an anecdote relating to Point Park. He said former Pirate's broadcaster Rosie Rowswell broadcasted away games from the top floor of the Sherwyn Hotel using the ticker tape method, which is now Point Park's Lawrence Hall.
As the program moved along, McMillan turned the majority of the time over to students to ask any questions they had.
With hands raised all over the room, the question and answer segment created a lot of discussion.
One student's question brought up the importance of business connections at the beginning of their careers. All three agreed that creating connections is one of the most important things a broadcaster can do, especially when starting their career.
"No one you meet is unimportant," Steigerwald said. "You never know who is going to help you."
Walk agreed with and shared his philosophy that it isn't about going out and meeting everybody you can, but meeting the right people that will help you along the way.
For current freshman Point Park broadcast production student John Beers, this portion of the question and answer segment is where he drew his favorite piece of advice from the day.
"The biggest piece of advice I got was learning that it's better to get to know people and learn how they can help you when you are in the early stages and see how they can help your career," Beers said.
Connections in the business are what make Center events like Thursday's possible.
"What we try to do, we use our contacts for these," McMillan said. "We do cold call some people, but most of the time they are in our contacts."
McMillan and Mike Fetchko, both Point Park alumni, created the Center in 2011.
Fetchko is the owner and managing director of ISM-USA and McMillan is vice president of communications for the Pittsburgh Penguins.
The center's objective is to bring leading executives from sports and entertainment industries to Point Park to share their industry knowledge with the students.
"The idea was the one thing we didn't get here at point park was the real world experience, so when we started the center the idea was we have contacts, so let's bring our contacts in to supplement their academic work," McMillan said.
Brown said Point Park has encountered vast changes since he was a student.
"It's night and day," Brown said after the event. "There's no comparison. We have the real studios and the media center about to open up now. It's a legitimate university. What it has to offer is so different now. The facilities are first class."
The Voices of Pittsburgh event was the third and final one of the semester for the Center.
About the Writer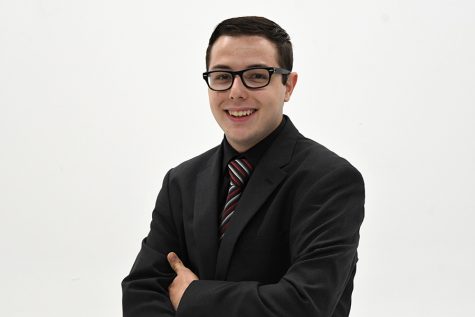 Robert Berger, Sports Photo Editor
Robert Berger is in his second semester as a sports photo editor with The Globe. The junior multimedia major previously served two semesters as co-news...