Rugby Club raises funds with annual event
Hang on for a minute...we're trying to find some more stories you might like.
A standing room only crowd packed into the Lawrence Hall Ballroom on Wednesday night for the second annual Rent-A-Rugger live auction.
24 rugby players were up for auction to take the highest bidder on a date as the Point Park Rugby Club teamed up with Strong Women Strong Girls (SWSG) to raise money for both organizations. The Rugby Club received 80 percent of the profits and SWSG received the other 20 percent. $922 was raised on the night to support both clubs.
Last year, the fundraising event raised over $1,500 for the Rugby Club. They donated a portion of the money to the Pittsburgh chapter of Susan G. Komen, a non-profit organization dedicated to combating breast cancer.
Senior club vice president Nathan Keenan was the first player auctioned off last year and only went for $7. This year was a much different story. Keenan was the eleventh player auctioned off and after a back and forth bidding war, went for $115. He said that helping out the club and SWSG was the most important part of the night.
"We always like to be involved. We love what SWSG does," Keenan said. "Not only can we help our club, we can also help another organization. We were more than happy to share some of [the money] with them."
SWSG promoted the event and assisted with the bidding process. Chapter director, senior Jenn Huffman, said that they plan on using the money that they received from the event to purchase supplies for their mentoring program.
The club sends student mentors to inner-city schools to mentor girls ages 8-12 on a weekly basis. They teach the girls life lessons such as stress management, organization and listening skills based on a curriculum that involves strong women in history.
"It's cool that we're able to support each other and have a connection with another large group on campus," Huffman said in a phone interview on Thursday. "It was just neat to be able to do it not only as a fundraiser, but also as a bonding experience."
In his first Rent-A-Rugger, junior transfer student Colby Barrett teamed up with senior Shane Kalna as the only duo auctioned off. They received loud cheers after leapfrogging down the runway. He said the he was happy with the turn out and with the opportunity to support SWSG.
"It's really [an] important club in this school and I think it should get some more recognition," Barrett said. "It's all about raising money to support the clubs. Money is money, it all helps."
Junior Justin "Red" Watson was the auctioneer and master of ceremonies for the event. He brought his energy and enthusiasm to the microphone to present the players and call the auction.
"Nothing beats doing something live in front of a crowd of people," Watson said. "There were a couple bidding wars that tested my vocal chords."
The bidding war for senior Josh Coltura ended at $130, the highest bid of the night.
"I didn't expect to go for the highest," Coltura said. "I was hoping the price would keep going up. We want new jerseys."
Junior club treasurer Dan Helbling threw an imaginary bowling ball into his teammates on the runway on his way to receiving a final bid of $50. He said that he felt the event's advertising lacked but was satisfied with the turnout.
"I was astounded that that many people came out. I'm glad that the word spread," Helbling said. "I'm glad that the school showed this much support for the rugby club."
Troy and Travis Johnston may not have went for the most money, but they did receive two of the loudest ovations from the crowd. Last year, it was Travis Johnston who went for more money than his twin brother.
This year, Troy Johnston, who was the second to last player auctioned off, went for more money. He went for a total of $85 while his brother went for $75.
"We didn't have a competition. I didn't even think about it," Troy Johnston said. "I just wanted to come out here and have fun. The seats were filled and that's all that we could ask for."
The players strolled down the runway to a song of their choice as Watson read a short biography and date description. While each did his own unique runway strut, Watson said that his favorite came from sophomore Jerimiah Elsass, who received a final bid of $12.
"Jeri did the worm. I appreciate that. Especially since he's a bigger guy," Watson said. "For him to showcase that kind of athleticism on a stage, especially one that's narrow, I give him props. He earned every dollar that was bid on him."
About the Writer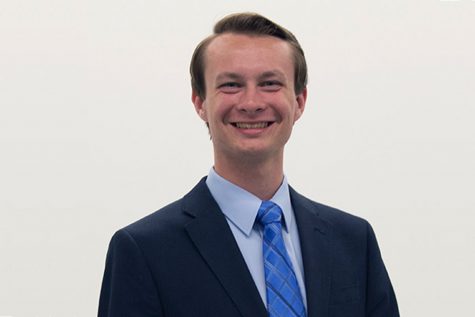 Josh Croup, Co-Sports Editor
Josh Croup served as the editor-in-chief of The Globe during the 2016 calendar year and is currently the co-sports editor. Croup has covered a wide variety...