University's social media enlists student team
Twitter, Instagram, Facebook, Snapchat updated regularly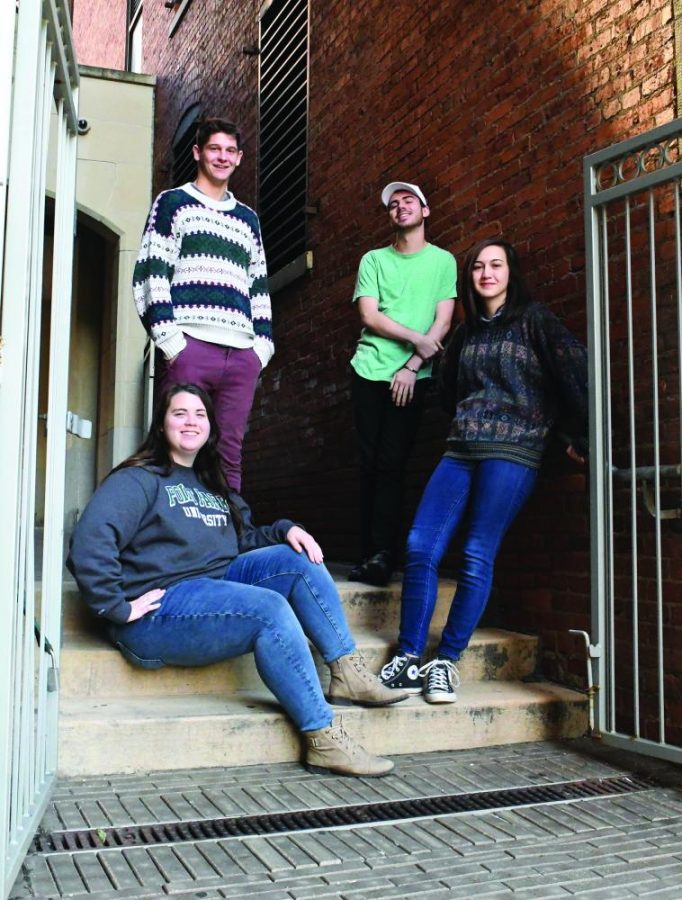 Nick Koehler and Daniel Kelly posted creative, high quality photographs of Point Park and Downtown Pittsburgh on Instagram. They tagged Point Park University, which allowed Felicia McKinney, the university social media manager to find them.
Annie Brewer approached McKinney for advice during one of the freshman orientation sessions and helped coach her with social media engagement by strengthening her personal brand through her newly created Instagram account.
Sydney Patton replied to a casual tweet of McKinney's asking for an assistant on her personal Twitter account and ended up offering her an apprentice position.
The successes in messaging from these four caught the eye of McKinney and she decided to create her very own student team to help her with a constant flow of content.
McKinney was hired in 2016 by Point Park after graduating with a degree in Student Affairs from Slippery Rock University. At Slippery Rock, McKinney worked within the enrollment management department doing social media, video and website content.
"I knew that I wanted and needed [a small student team]," McKinney said. "It's definitely been easier now that I have this solid team because every week I have steady content coming in from them, but we're always looking for people in the community."
McKinney's philosophy is to focus heavily on student content that is real and authentic to Point Park.
"If one person is the only person creating content, it's going to look like that specific art style," Kelly said. "When a group of students, who are all talented can come together and build that profile, it works out for everyone. You see Point Park from different eyes, rather than just one."
Point Park uses four social networking websites: Twitter, Instagram, Facebook and Snapchat. Three of the four are updated on a daily basis with new, different content. Snapchat, being the fourth, is updated less frequently.
At the time of publication, the largest audience is found on Facebook. Point Park's Facebook page has around 15,800 likes. The second largest audience with a total of around 8,900 followers is Twitter. Instagram, the third and most coveted according to McKinney currently has nearly 6,100 followers. Snapchat is up to about 1,200 views on stories, according to McKinney.
"When I first got here, Instagram was kind of the thorn in my side that I was super stressed out about," McKinney said. "I wasn't sure if I was doing [Instagram] justice, but we did win a Gold Award for our account last December, so I knew were on the right path."
ASSEMBLING THE TEAM
Kelly, a sophomore cinema production major, was the first addition to the team.
Prior to the first day of school, McKinney reached out to Kelly because she found moody photos of Pittsburgh that he took on Instagram and said she had to figure out a way to hire him.
"I like to joke around and say Point Park slid into the DMs," Kelly said.
Similar to Kelly's story, McKinney found Koehler, a freshman photojournalism major because he posted bright photos of Pittsburgh on Instagram.
Koehler was transferring to Point Park and decided to tag the university in the photographs he was taking. McKinney saw his posts featuring Downtown and interviewed him to be an apprentice.
Patton, a junior sports, arts and entertainment management major, originally applied for an apprenticeship position but was turned down the summer of her freshman year.
McKinney tweeted indirectly asking for a personal assistant, Patton reached out via direct message and asked if that was an offer that was plausible, and then McKinney offered her an official position on the student team where she helps McKinney create content.
Out of the four, Brewer, a junior cinema production major, was the only student team member who was not discovered via social media. Over the summer, Brewer, an orientation leader, reached out to McKinney for advice about branding her photography which features pictures of Point Park students, but also dogs around Downtown.
"I honestly thought it would be a consultation of how to get more people's attention with my photos and just how to brand my work," Brewer said. "I thought she was joking at first about it. I thought it was an overreaction of 'oh, I would hire you' but she called HR while I was still in her office."
CREATING SPECIALTIES
Although the students are considered a team, they rarely work in a setting together. All four create different content for social media, and they each have their own tasks within their apprenticeships.
Kelly's content ranges from taking photo or video of Pittsburgh for social media to covering different events. One of the reasons McKinney was able to find Kelly is because of a video he compiled of the freshman boat ride during Welcome Week which showcased his talents.
Brewer exclusively does photography for social media. She attends different Point Park related events, takes photographs around Pittsburgh and sends her work in.  One of her most notable photos featured a pair of students wearing red, white and blue attire facing the Wyndham hotel in honor of the events on September 11, 2001.
Koehler's apprenticeship focuses on photos for social media, but focuses a lot more on Point Park's website. His work is featured within news stories on the university's website. Examples of his work include photos from Family Weekend and an educational session on eating disorders for dancers.
Patton is what McKinney describes as the "one who does it all for me." Every Monday she's in charge of coming up with the Motivation Monday quotes, which are featured on Point Park's Instagram Story. She also has her own monthly Snapchat takeover featuring different places around the city. In addition, she also writes and interviews for a series called #PittsburghMe, which profiles students on campus.
Outside her team, McKinney actively searches for ways to feature current students on social media. To aid in that, McKinney focuses heavily on student involvement, whether it be from her team or featuring students in Photo Friday or Snapchat Takeover Tuesdays.
Photo Friday allows students outside of the social media to be featured through Point Park's Instagram Story. Snapchat Takeovers allow one candidate to be the 'face of Point Park' for a day showing off their routine as a student. These students take questions from prospective students and show off what it's like to be a Point Park student. 
McKinney's goal becoming social media manager was to strengthen Point Park's social media accounts, but also to change the strategy, tone and direction of the social media accounts.
"[The students] are the voice of the school," Patton said. "Students know what's up and happening with social media. We're the first ones to interact with trends and see it. Point Park's social media is for the students. What better way to relate to them than getting student input? That's her philosophy."