Frats, sororities part of university past
In October 1966, Ed Meena decided to join Point Park's Alpha Delta Iota (ADI) fraternity, reasoning that "it was something to do."
Early 1970s alumni Charla and Greg Chiappelli met with a group of their old Greek life friends only a few weeks ago.
Darlene and Angelo Spagnolo credit their 42 years of marriage back to the day she asked him to a sorority semi-formal.
Each of them reminisced and referred to those days as "simpler times." Throughout the 1960s, over a dozen Greek life organizations were alive and well on Point Park's two-building campus. Although their presence disappeared by the late 70s after declining finances and interest, the impact and lifelong friendships remain.
"Why were fraternities created in the first place?" said Meena, a current professor of history and 1970 graduate. "Well, the name says it all. It was a fraternal organization where you developed relationships with other men that you went to school with that lasted a lifetime."
According to Phill Harrity, the university access services and archival coordinator, the earliest records of Greek life date back to the medical fraternity Mu Sigma in 1960. By the school's second birthday, three more groups were added.
While the numbers fluctuated through the years, each group had an estimated 20-40 members. Pledging one sorority, Sigma Delta Sigma (SDS) was as easy as paying regular membership dues and saying the Greek alphabet three times on a match then lighting it.
ADI held an induction ceremony and celebrated afterwards at a pub on Third Avenue; if members wanted, they could pay $15 for a Letterman jacket.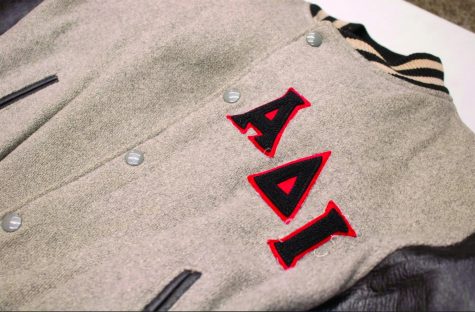 What they didn't get was their own housing.
"Frats in our day were basically a certain table at the snack bar," Mr. Spagnolo said, a 1976 alumnus and member of Sigma Tau Gamma.
The Spagnolos were both commuters who found a sense of belonging by participating in Greek life.
"It was basically a way for us to mesh with the college," said Mrs. Spagnolo, a SDS member who graduated in 1975. "Every frat had its own table."
Even how the Spagnolos first met was simple, and it began at that same place in the basement of Academic Hall.
"When I first saw my wife, [it] was in the snack bar at Point Park College," Mr. Spagnolo said.
He recalls wanting to ask her out, but never actually going through with it because he "heard she turned down other guys." When a semi-formal dance came around for SDS, she ended up asking him.
"The girls asked the guys; we hung out together," Mrs. Spagnolo said. "I wasn't taking anyone seriously and I thought he was cute."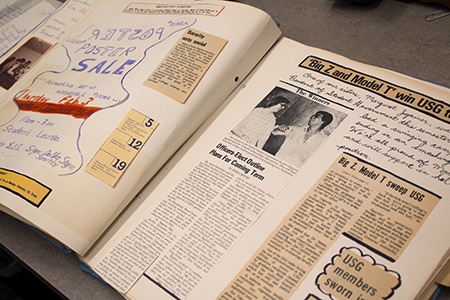 On top of these events, being an active member could have meant dressing up during rush week and eating fancy desserts at a tea party or playing pickup football at Schenley Oval, where the losing team bought the winners a half a keg.
"They would hold their events, not so much community service back then," Meena said. "They did have a tradition. They pushed the dean of students around in a bathtub around town collecting money for the old Newsboys Fund, which was some kind of local charity and people would throw money in the bathtub."
As for the party scene, 1972 graduate and SDS member Charla Chiappelli summed it up: "College was college and people had their way of finding alcohol."
"You drank Iron City and IC Light because it was the cheapest, not necessarily because it was any good," Meena said.
Back then, Meena described things as "looser" with "less rules and regulations." Back then, $20 took care of the entire evening and a half a keg wasn't a lot of money.
But back then, there were no hazing issues. "College was college," but the rules were seldom abused.
"I think you can have people doings things, but I don't think you can have people doing things with lethal alcohol levels," Mrs. Chiappelli said.
"We never did that," said Greg Chiappelli, an ADI member from the class of 1972. "Nobody forced us to drink that much."
Mr. Spagnolo has mixed feelings regarding Greek life today.
"Things have changed in our society so much," Mr. Spagnolo said. "You have a great prevalence of drug use and hazing to the point where people have lost their lives."
Meena mentions his experiences with ADI going to the University of Miami three years in a row for spring break. They stayed in the frat houses down there and went to the beach, but nobody got in trouble or hurt or arrested.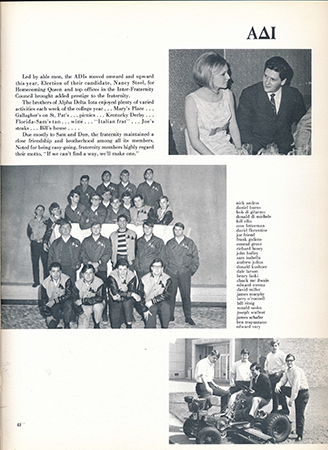 "You've got to use [your] common sense," Meena said. "It's not a measure of someone's manhood depending on how many boilermakers, whiskey and beers, they can drink."
It was common sense. It was simple. It was "just fun."
For Charla Chiappelli, joining a sorority meant being with her friends—friends she and her husband still keep in touch with today.
"I was probably the last to conform, so to speak," Mrs. Chiappelli said. "It became the thing to do…I knew everybody; I felt that it was neat to belong to something."
And as for Darlene Spagnolo, her favorite memory from four years in a sorority is as simple as the times back then: "Meeting my husband."