Rivers guides team as lone captain for senior year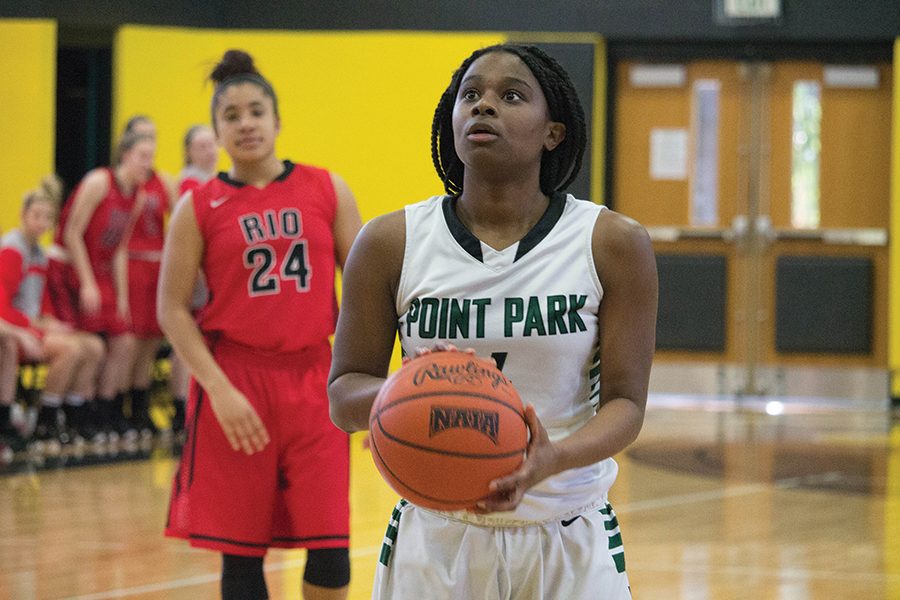 When women's basketball head coach Tony Grenek went to a round ball tournament at Geneva College four years ago looking for a point guard, two girls caught his attention.
One was Shaniya Rivers. The other was a better basketball player, but was not what Grenek was looking for.
"Shaniya fit the mold of the type of player that I want to coach," Grenek said. "I knew she would come here, get herself a degree, work hard, listen and be respectful. There's no ego to her; I could tell, and that's why I chose to pursue Shaniya instead of the other player."
Rivers grew up in Florida and always knew that she was more of a tomboy.
"My mom signed me up for cheerleading in second grade, but just standing around in the heat in Florida just wasn't my thing," Rivers said. "The next year I was playing flag football."
That was not enough for Rivers, who wanted to move onto tackle football the year following. Her mom was not a fan of that idea, however, so Rivers began playing what she though was the next most exciting sport – basketball.
"I ended up beginning to play basketball when I was in fourth grade," Rivers said. "I started playing when I was still in Florida, then began playing for Hopewell when we moved to Pennsylvania."
When Rivers got to Point Park, the team felt her impact immediately.
"She has always been a role player – taking charges, grabbing rebounds and making hustle plays," Grenek said. "That's always been her niche on a basketball court."
Basketball has also introduced Rivers to some of her best friends, several of which she will have for life.
"We knew each other from high school because we played against each other, but we weren't really friends back then," teammate Sam Weir said. "Then we both came here, started hanging out and now she's my son's godmother. We can tell each other anything and she's always there when I need her."
Rivers was named the lone captain for her senior year, the only one of six seniors handed the honor.
The position has remained vacant on the team for the past two years.
"I think what she contributes most is her unselfishness," Grenek said. "She's able to play any position on the floor. She's selfless. Probably the greatest thing about her is her work ethic. Nobody on the floor in my 23 years of coaching has worked harder than her. She's the hardest working player I've ever coached."
Grenek looks back on that round ball tournament with fond memories about a great decision.
The other player he scouted is not even enrolled in college anymore.
Rivers is the captain of her basketball team for her last season in a Point Park uniform.
"I'm going to miss just playing the most," Rivers said. "I think this team is really gelling together and it's a fun team right now. I can't wait to see what happens later in the season."