Shields claims Point Park's first XC All-American honors
Written By Josh Croup, Co-Sports Editor
November 28, 2017
Anna Shields raced to a 12th-place finish at the National Association of Intercollegiate Athletics (NAIA) national championships and became the first All-
American in Point Park cross country history.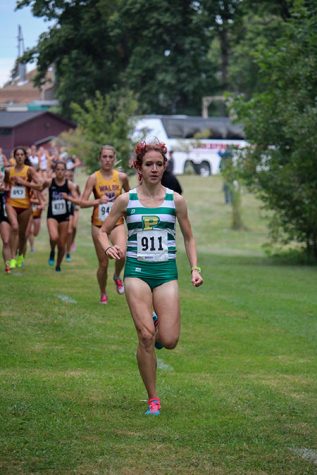 The junior from Torrington, Connecticut led the women's team to a 26th-place finish at the national championships out of 36 teams in Vancouver, Washington, the program's best-ever finish at nationals.
Her time of 17 minutes, 50 seconds in the 5K race was a team national meet record and helped clinch her fifth All-American distinction, awarded to the top 30 finishers. Her previous four NAIA All-American honors came in track and field.
Still, Shields wanted more.
"I was disappointed in how I did," Shields said. "I know I gave it my best on the day, and in some ways, I'm proud of how I approached it. I went for the win."
Shields jumped out to second through the first two miles of the race.
"I paid for it in the last half mile completely," Shields said. "I had no idea what place I finished. I was surprised that I finished that high because I thought it was going to be worse."
The women's race followed the men's race on Nov. 18 and Shields crossed the finish line to cheers from her teammates on the men's team, also competing at the national championship.
Xavier Stephens led the way for Point Park with a personal-best time of 26 minutes, 44 seconds, achieving his goal of racing under 27 minutes at the meet. He finished 127th out of the 248 runners at the meet.
"Most of us had a good race," Stephens said. "The course wasn't bad at all. It was a little bit muddy, but it wasn't as bad as I thought it was going to be."
Point Park finished 30th out of 36 teams, two spots higher than the team's performance at the national championships two years ago.
"This was definitely a memorable season," Stephens said.
The sophomore joined his team after the program-best national championship performance to cheer on Shields and the rest of the women's finishers at the finish line.
"It really helped at the end because I didn't have a race that I was happy with at the time," Shields said. "My teammates were very caring and supportive. That's what teammates are for."
It was the second time in three years that both Point Park cross country teams qualified for nationals. The 2015 men's team that competed at nationals included most of the same 2017 men's runners, including Chris Hunt.
"We knew what the experience was going to be like," Hunt said. "You get an adrenaline rush, that's for sure. You have to pace yourself. You feel invincible that first 800 meters."
Hunt raced to a personal record time of 26 minutes, 52 seconds in the 8K race as the second Point Park finisher. He still has one year of cross country eligibility remaining, but is unsure if he will return to the racecourse next season while he completes graduate school.
"It was really surreal," Hunt said. "It might be my last cross country race ever. To run a personal best, that was really special for me…I love everyone on the cross country team so much."
Hunt also praised Shields's performance and said the team was proud of her showing at nationals.
"Think about it – she's 12th place out of the best girls in the nation," Hunt said. "It's crazy to put it in perspective like that."
Several Point Park runners posted career-best times, including junior Kara Rohlf, freshman Kylie Archibeque and junior Desmond Marrow. Freshman Kayla Roberts was three seconds off of her personal record.
The teams also had the opportunity to train at NIKE World Headquarters in Beaverton, Ore. and received a behind-the-scenes tour of the facility.
The Pioneers worked out on the Michael Johnson Track, named after the U.S. Olympic gold medalist. The track, tucked in the woods, wraps around towering trees and features a statue of the Olympian.
"I've never seen anything like that in my life," Shields said. "I probably won't get to run on a track like that, again. It was very special to have that experience."
The team's experience at nationals made for a perfect segue to track season, beginning this Friday with Point Park's first indoor meet at the Youngstown State University Icebreaker.
"I feel good about going into track season," Hunt said. "I think we are stronger than we ever have been."