Students attend university from around the globe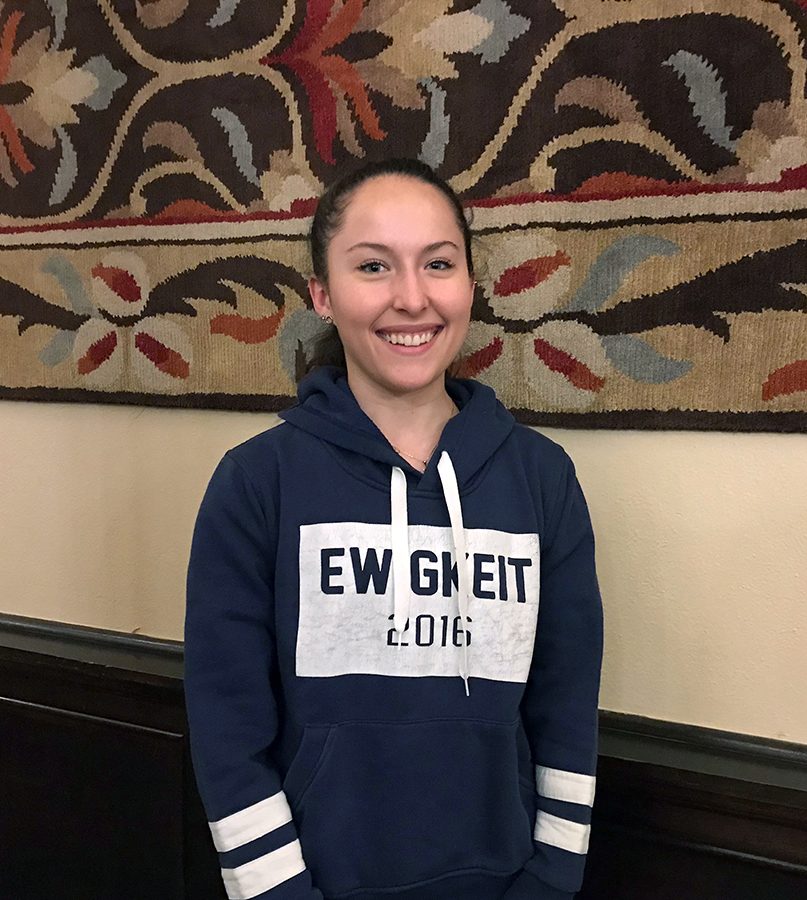 Wessel Reitveld, Richard Perez and Robelin Bautista all came to America driven by the world of sports.
For Katja Rochat and Florencia Urquidi, America furthered opportunities their home countries didn't have.
Victor Sule came to America with a nonconventional dream and the passion to pursue it.
For some international students at Point Park, coming to America for school was the best way out of hardship because of the opportunities that America could provide.
The director of international student services and enrollment, Rebecca Lee, said Point Park's international student population is at 167, representing around 40 different countries.
According to the 2016 factbook for the university, international student population last year was 181, representing 40 countries. 
Lee signed off on all of these students' reasoning. She said that these students want to come here for the educational aspect.
"The opportunity that is afforded to them in order to gain that curricular training is very important," Lee said. "They're looking for that learning experience because we're a global society now."
The idea of coming to America is far different than the process of coming to America. Every international student is met with the same difficulties and challenges, regardless of their reasoning for wanting to study in the states.
According to Lee, the first step in the process is becoming academically admitted and providing financials for the entire first year of their studies. In addition, a student must be proficient in English. Without that, they cannot be provided a student visa to study in the United States.
The student visa, as the name suggests, allows an international student to study in America, but that's all. This particular visa does not allow an international student the opportunity to work off campus in any capacity for the first year. The visa also does not allow students to gain residency in the states.
Lee also said an athletic student, in the eyes of the United States government, is the same. The only difference is how their scholarships are awarded, but they still have to be enrolled full-time as a student.
Lee said essentially international students have to "plead their case" at an American consulate in their home country proving why they should be granted a visa to study.
"All of the immigration paperwork is hard," Perez said. "Everything they inquire is tough. It's tough to get approved to get here."
The American consulates are typically looking for students that want to go back to their home country whenever their studies finish, Lee said.
"They definitely look for ties to the home country," Lee said. "[The student visa] doesn't give any in-road to make residency in the United States."
The Athletes
For Dominican Republic-native and sophomore sports, arts and entertainment major Bautista, baseball was always his dream.
In a family consisting of ten, Bautista is the only child to be attending college and only the second to graduate high school. Unable to chase his dream because of the responsibilities he had with providing for his family, Bautista felt defeated.
According to Bautista, his baseball coach never wavered the ambition he had for him, even though the Dominican Republic does not offer baseball in higher education settings.
"He wanted to see me in a uniform… I could have a better future with baseball," Bautista said. "If I had a legit opportunity, I would quit my job and do it."
Bautista was set to start what he thought would be his baseball career in the United States at a different university, but because of his financial situation, he could not afford his studies.
After bouncing from different schools trying to find a college that could meet his needs, Point Park's baseball coach saw Bautista pitch at La Roche College and offered him a chance to come to a workout.
"Something inside of me said stay here, and I had this feeling that I wanted to stay here," Bautista said. "I performed the way I think coach wanted me to and he offered me some money in a scholarship. I liked it here."
Reitveld, a sophomore behavioral science major from the Netherlands, has always had an athletic life.
Playing sports since he was younger, for him it felt arbitrary to chase his dream despite his country not offering soccer in a university setting.
With a sociology degree started at a university in the Netherlands, Reitveld's teammate received a scholarship to play soccer in the United States and prompted him to go for it and see what happened.
"It's the reason I came here," Reitveld said. "I can't imagine being here without it being for soccer."
One of the selling points for Reitveld was Point Park's coach is Dutch, a connection to him because of his roots.
"If I didn't do this I would always have two options I would always regret when I was older," Reitveld said.
Perez, a junior business management major, followed his Plan C by coming to America. In a country where there's a current dictatorship, leaving was Perez's only option.
Right after graduation, Perez said the political problems in Venezuela essentially forced him to look for a better life.
He said he has looked at pictures since he was a kid always carrying around a ball and a bat and starting playing baseball at three years old. Perez likened the popularity of baseball in Venezuela to that of American football in the United States.
"I had to leave my country because of all of the problems there," Perez said. "I got an offer to go play and study at an American college in Ohio and two years in [Point Park's baseball coach] saw me and gave me a scholarship to play here."
Perez said the best collegiate league for baseball is in America. His plans prior to having to leave his country always included education and baseball.
"Whenever it turned that bad, [Plan C] turned into a Plan A," Perez said.
The Dancers
Urquidi, a freshman dance major with a concentration in ballet, is from Bolivia. Dancing since she was younger, continuing the education of her passion only felt right, she said.
"In my country, the opportunities in the arts are nonexistent," Urquidi said. "You can't pursue your art professionally. A lot of people get to a really good level of their art, but then they have to stop and go to study something different."
At just 15, Urquidi attended a summer dance intensive in Michigan, and from thereon, she knew that she wanted some form of America in her future.
"My dance teachers always told my parents that I had a talent and I shouldn't waste it," Urquidi said. "In order to improve, I needed to leave Bolivia."
At 14, Katja Rochat, a sophomore dance major with a concentration in ballet from Switzerland, knew that she wanted to dance in the United States.
Similar to Urquidi, Rochat said her country is not advanced in the arts enough to pursue a career dancing.
"We like the arts, but back home the whole system doesn't allow you to dance for a long time," Rochat said. "We aren't really open-minded or into the whole 'arts' thing. For us, we have to have a backup plan because it's not really open."
THE MODEL
Unlike the others, Victor Sule, a master's student studying environmental studies from Nigeria, had a different outlook for himself.
Sule did not come to America chasing an artistic or athletic dream, but rather an unconventional one.
"I wanted to experience cultural diversity," Sule said. "I've done a lot of research on a lot of schools around the world and the United States nailed that aspect for me."
With an undergraduate degree in botany, Sule wanted to further his studies in the environmental world, while also pursuing another passion of his: modeling.
"It's always been one of my dreams to be a model and a public figure," Sule said. "I feel like modeling is more to do with than just dressing up. It's how you take care of yourself, it's how you live a healthy lifestyle by eating the right foods and living the life that gives you a good life."
Sule is currently signed to an Ohio-based modeling agency and is currently attending modeling classes and training to pursue that dream outside of Pittsburgh. With the hopes to eventually move, Sule has "big plans" for the future.
"The modeling hub is definitely in Los Angeles, Calif., but I've heard other things about places like Miami and Colorado," Sule said. "I just want to explore the American lifestyle."
The Future
Lee expects a decline in the upcoming years due to the political nature surrounding the United States. She said overall there has been a seven percent decrease in international student enrollment in the United States since the start of Trump's presidency into the fall 2017 semester.
However, the international students currently here are finding their own satisfaction and sense of purpose in America.
"It's hard to say one favorite things about America," Reitveld said. "But I really like the kindness of the people here, and as well all the facilities… I enjoy every day of being here and it's the best decision I've made in my life so far."