Women stay undefeated vs. West with weekend wins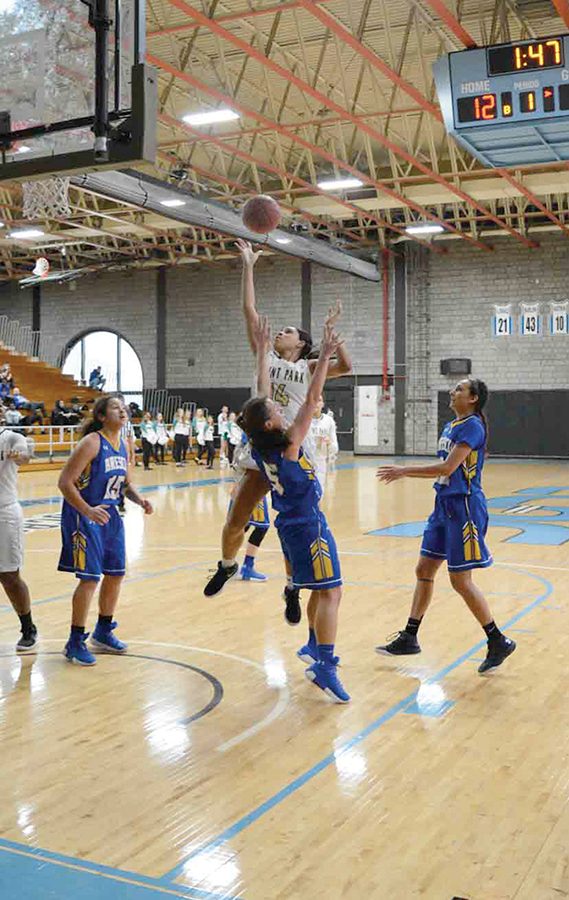 The women's basketball team continued River States Conference (RSC) play last weekend with cross-divisional opponents Indiana University (IU) Southeast and Brescia.
The Pioneers came out Friday ready to get another conference win against IU Southeast after a loss to IU East ended their four-game RSC winning streak.
The Grenadiers entered Friday's game with the top scoring defense in the conference, giving up an average of 58.6 points per game.
The Pioneers did not let that get into their heads, and instead of falling victim to the conference's leading defense, they put up their second biggest offensive output of the season.
"We have 14 players that each bring so much to the table," head coach Tony Grenek said. "So instead of trying to out-play them with just our starting five, we outplayed them with all of those – players one through 14."
It started with an early lead for Point Park, which took a 22-12 lead after one quarter. The offense never let up, allowing Point Park to hold the lead for the entirety of the game.
The Pioneers made a season-high of 14 3-pointers, which ultimately resulted in an 87-58 win.
Senior guard Maryssa Agurs joined the starting five for the first time since a hip injury sidelined her earlier in the season.
Point Park had five players in double digits and was led by Agurs' season-high 22 points, followed by junior Sam Weir with 16 points and freshman Mitch Burns with 15 points.
"It's huge to have Agurs back," Grenek said. "She's a great athlete. She has been playing through injury and a lot of pain. I have a lot of respect for her because she plays so darn hard and she did a tremendous job this weekend."
The 87-point effort put up by the Pioneers was the most they have had in any RSC game they have played this season. The only game in which they scored more was an early non-conference win against Penn State Greater Allegheny (94 points).
With another win under its belt, Point Park had a day of rest before playing their penultimate home game against Brescia.
This game had a very different story from the IU Southeast contest. Both teams started cold, with Point Park shooting 20 percent and Brescia shooting just 7 percent from the field during the first quarter.
"Coming back from a day of rest, you don't know how the team is going to come out," senior captain Shaniya Rivers said.
"We have to continue to work hard and try to relax a little bit on the offense that we have. We can't rush our shots."
It was not until early in the second quarter that the Pioneers started to heat up, ignited by two straight treys from senior Angelina Starr.
Point Park's building momentum made Brescia built some of its own as well, and the Pioneers were barely holding on to a 38-36 lead at the half.
The tight-knit play continued for most of the second half, and Brescia gained its first lead of the game, 63-62, with 5:54 left in the fourth quarter.
The Pioneers responded with a 10-2 run and some big treys from Burns and sophomore Tyra James. The late run resulted in another Point Park win, this time 77-69.
"If a team isn't the same talent level as you, maybe not as skilled, you typically play down to them," freshman forward Carly Lutz said after Sunday's game. "We just played our game and ended up getting the win, and that's all that matters."
Weir led the Pioneers in scoring and contributed a double-double, notching 18 points and 13 rebounds. Agurs also tallied 15 points and led the team in assists with seven.
Point Park is now 5-0 against teams in the RSC West Division and are 11-1 when holding opponents under 70 points
The Pioneers are now faced with a travel-heavy schedule to close out the year with seven of their last eight games on the road. Their lone remaining home game is Senior Day against Ohio Christian on Feb. 3.
"It's going to be hard," Lutz said. "I transferred from Slippery Rock, where our longest road trip was an hour, so I've never done anything like this. I think we just need to focus, take it one game at a time, rest, relax and just bust out a win."
They travel this weekend to Asbury and Alice Lloyd, both of which are also West Division opponents.