SAEM panel encourages varying experiences, dreams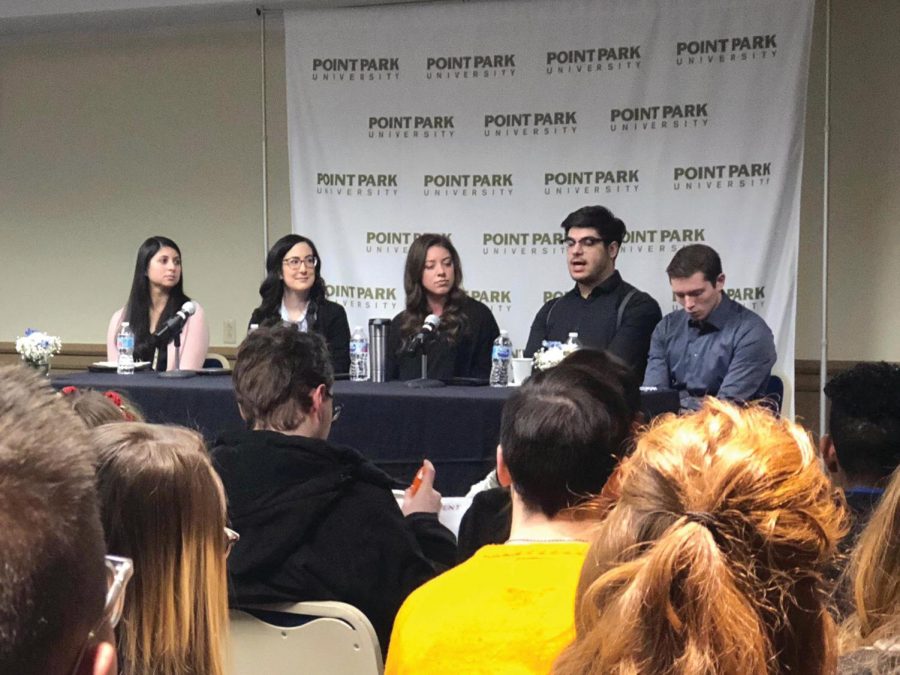 "What would you tell your student self?"
That is a question that was answered at the recent sports, arts and entertainment management (SAEM) alumni panel before Point Park's career fair Thursday.
The panel consisted of five graduates from Point Park's SAEM program who currently have jobs in the field. The panelists shared their career paths, the duties of their current jobs, advice to their student self and answers to questions asked by members of the audience.
The panelists included representatives from Stage AE, the Pittsburgh Symphony Orchestra, Lionheart Event Group, Wordwrite Communications and Pittsburgh Penguins. Each panelist got a turn to give their advice to students along with sharing their own stories of trying to find their footing in the field.
Evan Schall, the new media coordinator for the Pittsburgh Penguins, had a piece of advice for those trying to incorporate what they love doing into their work.
"Find a way to better yourself as a candidate for a job, but pick something you're passionate about," Shall said, citing his own experience with photography as an asset.
While he had never taken a class, his passion for photography and determination to improve made his skills very appealing to employers.
Audience members were asked to raise their hands as to which area of the major they most want to work in. Samantha Moyer, senior events coordinator at Lionheart Event Group, suggested finding what you like doing in a field rather than being set on a specific area of the program.
"I want you to think past, 'Okay, I'm into sports, I'm into music, I'm into dance,' what have you," Moyer said. "What are you interested in doing there? Because I got so stuck in, 'I want to work in dance.' Do you want to be in marketing? Do you want to be in operations? What skills do you have in order to thrive in those industries?"
Paige Beal, chair of the SAEM program and an assistant professor at Point Park, shared why she thinks the panel was so important for students in the program.
"We all think that we're the only ones going through this kind of insanity," Beal said. "You can hear that there's shared experiences that help people feel like other people were dealing with this and then here's how they were able to work through it. I think that one of the biggest takeaways is that you can do it and there are some of the things, skills and tips that you can put to use in your career."
Jocelyn Bankson, a freshman SAEM major, was interested in the panel because it included graduates of the SAEM program from several different years, and was a good place to make connections.
"It was really great," Bankson said. "I think they had a diverse group of panelists that had done so many different things in school and it was really inspiring to hear their stories."
After the panel, Beal said the panel reflected the nature of SAEM students, which she said professors like to describe as both "scrappy" and "gritty."
"They are willing to step into things, willing to take on things that they haven't done before, passionate and driven about what they want to do, and I think this is a good indication of that," Beal said.