Shawn Mendes surprises fans with two new singles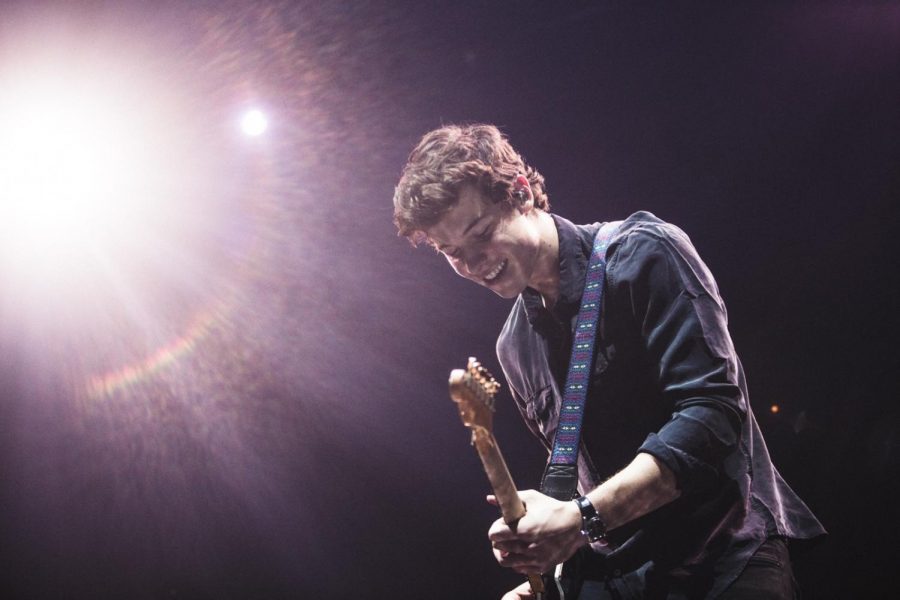 Shawn Mendes surprised fans with not one, but two singles last week. With two dates of March 22 and 23 posted across his Instagram and Twitter, fans were left confused as to what they would mean. Some thought one of the dates would be the leading single to his upcoming third album and the second date would be the release date for the album.
A week prior, one plain beige and one pink photo were posted all over his social medias, starting the frenzy of a new era for the singer-songwriter. The era marked something very different from the last two, which included darker colors such as blues and greys.
Fans cracked the code quickly on Twitter creating rumors that the two dates symbolized the two singles he was going to release. The first was rumored to be called "In My Blood" and the second was rumored to be called "Lost In Japan."
The rumors were true. On the day of March 22, Mendes tweeted #InMyBloodAtMidnight confirming the first set of rumors. The hashtag quickly trended on Twitter until around midnight when the single dropped.
"In My Blood" starts off with a very vulnerable tone coming from Mendes, chiming the lyrics, "Help me. It feels like the walls are caving in." Compared to other songs, Mendes has never shown his vulnerability within his music, which marks a more mature sound coming on the upcoming album.
The song, which is focused on the struggles of dealing with anxiety, symbolizes an important time in the music industry and in the current societal discorse. Topics surrounding mental health are usually not described in raw statements, and if it is, it is something rare.
When describing the lyric, "laying on the bedroom floor feeling nothing, overwhelmed and insecure, give me something, I could take to ease my mind slowly," Mendes said in an interview with Billboard, that the lyric talks about his first time experiencing anxiety.
"I think, to be honest, if you're going to be talking about something and being that vulnerable and if it's close to you, you have to go the whole way and be literal and say exactly how it felt and how it looked," Mendes said in the interview.
The song, mimicking Kings of Leon rock vibes, is the most abstract Mendes has ever gone with his music, typically staying in the pop music world. Mendes said in an interview that music is genre-less now and that's what his music reflects.
The second single, "Lost In Japan," is different from "In My Blood" entirely. "In My Blood" sports rock vibes and "Lost In Japan" exhibits old school Justin Timberlake vibes, mainly from the album "Justified."
At first, "Lost In Japan" starts off with an opening instrumental featuring a piano, which would typically mean that the song is going to be a slower, kind of ballad.
The opposite happens. After a few seconds, the piano speeds up and the tempo changes entirely to a very R&B heavy song, while keeping pop vibes that Mendes' music is fmiliar with.
Just like "In My Blood," "Lost In Japan" tells a story that Mendes has never shared before: the overwhelming desire to go to a girl's hotel room miles away, seemingly in Japan. Mendes, who is usually a "safe" writer showed his maturity in this song with the entire song focused on the repetitive chorus line: "Do you got plans tonight? I'm a couple hundred miles from Japan tonight. I was thinking I could fly to your hotel tonight because I can't get you off my mind."
However, in an interview Mendes said that "Lost In Japan" was created based off of a dream that he got physically lost in Japan and the next day he woke up and had a "cool piano" part in his mind, and thus the song was born.
The singer-songwriter confirmed fan theories such as if the two songs would have the same effect as "Castle on the Hill" and "Shape of You," both by Ed Sheeran, had, labeling two different types of songs in preparation for his new album.
Mendes has kept quiet about the album and its release so it's expected for more music to be dropped in the upcoming weeks due to the anticipation on of his currently unnamed third album.