Obituary: Philip Andre Droulia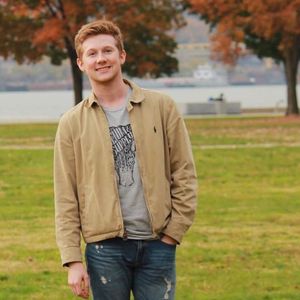 Philip Andre Droulia, a senior public relations and advertising major, passed suddenly on Sunday, April 8. He was 22 years old.
According to an obituary from Slater Funeral Services, "Philip was born March 10, 1996 in Greeley, Colorado to Gabriel and Melinda (Williams) Droulia, loving brother to Kara (Osterman) Schaefer (Gerard Schaefer), loving Grandson to Eunice (Hoffer) Lohr, Daniel Lohr and Flora Villere, loving nephew to Michell Williams, Lorraine (Droulia) Abercrombie (John Abercrombie), George Droulia (Jen Droulia), Veronica Droulia and beloved uncle to Connor Schaefer. He is preceded in death by his Grandfather, William Andre Droulia."
Dean of Students Keith Paylo made the following statement last Thursday on behalf of the university:
"We are deeply saddened to hear about the passing of Philip Droulia. He was a senior in our Department of Communication, and should be in the midst of planning the next big stages of his life. Our thoughts and prayers are with Philip's family, as well as his fellow students and the faculty members with whom he formed close relationships over his time at Point Park."
Friend and former Point Park student Andrew Secrest said Philip began as a photography major and was set to graduate in December.
"That was his thing," Secrest said. "He loved taking pictures."
Secrest recalled his fondest memory of Philip from early fall around two year years ago. Philip was taking photos for a project at The Point.
"He was the kind of person that wanted to make it about you, but make sure it was also about him," Secrest said. "He turned the camera around and was like, 'alright, you're going to learn how to take pictures too.'"
Of the three portrait shots Secrest took of Philip, one ended up being widely spread by friends and family after his death.
"His family said no one has ever been able to capture every personality Phil had in one picture," Secrest said.
Visitation and funeral services were held at William Slater II Funeral Home last Thursday, for which Philip's family requested donations be made to Little Wings of Hope in lieu of flowers.
According to the Little Wings of Hope website, the nonprofit works to provide financial assistance and raise awareness of youth struggling with and seeking treatment for chemical dependency. Philip contributed to the organization by writing its press releases and taking photos while his mother, Melina Droulia, serves as its director and creative officer.
"I hope it's eye opening to people because you look at him and you'd never think he was a drug addict," Secrest said. "It doesn't matter. Addiction does not discriminate – color, race, gender – it doesn't matter."
Robert Berger contributed additional reporting. Story updated on April 17.