Women's soccer builds confidence, victory streak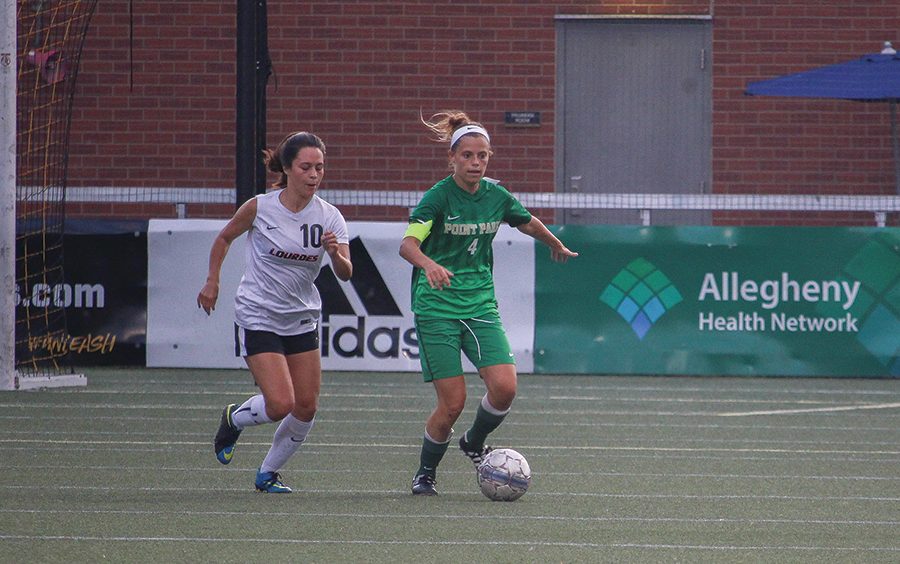 Written By Rachel McKriger, Copy Editor
September 25, 2018
Section play began with a spark for the Point Park women's soccer team.
Finishing up a long road spell, Point Park opened conference play with a 7-0 victory over Brescia (Ky.) University. Two days later, the Pioneers notched another victory, this time over Cincinnati Christian (Ohio) University.
Against Brescia, junior Gabby Widman opened up her scoring account. Widman scored in the first and second half of action. The midfielder said that the goals had given her a boost of confidence heading into conference play.
"With players looking up to me on the team, putting the ball in the back of the net gave them a boost of confidence as well," Widman said. "It's definitely hard traveling for long bus rides and then going into these games. We knew we had to prove ourselves and earn wins. Starting the conference with two wins has helped us."
Widman explained that playing tough teams in the pre-season has helped the Pioneers. Beginning the season with a 0-4 record is now a distant memory for the team. Point Park has won their last four matches and are currently 2-0 in National Association of Intercollegiate Athletics (NAIA) play.
"Being on top is a boost for us, especially with a hectic week coming up," Widman said. "We need to work the full 90 minutes, no matter who our opponent is."
Hectic is an understatement for the upcoming week.
Point Park has a rigorous schedule of three games: Tuesday against Geneva, Thursday against the University of Rio Grande and Saturday against WVU Tech. All matches will be at Highmark Stadium, finishing out the month of September.
Tuesday's match is not a section game, but the goal of staying focused and earning a win remains prominent for the Pioneers, according to senior Abby Magliocca.
"Even though it's not as significant as the conference games, it's still a way to build up our confidence and build on things we've been working on," Magliocca said. "We need to put away teams, even if they're as the conference teams. We're still on a must-win mentality."
A non-conference game gives the Pioneers another chance to clean up the new diamond formation implemented by head coach Maggie Kuhn two weeks ago. Magliocca called it a 4-4-2 formation, which she personally enjoys.
"I like it a lot because the center of the field is the controlling factor of the game," Magliocca said. "If you can control the center of the field, you can dictate what happens. To bring most of our players in the center of the field, it's kind of nice to see on the defensive line. All of the girls are getting marked — and it's hard to get through our defensive line. It's not just our defenders; it's our midfielders and forwards too."
Defense might win championships, but scoring helps as well. Magliocca has noticed a difference not just in the midfield, but also in the attack game as well.
"We've been scoring a lot of goals in the past few games and that's building up our confidence," Magliocca said. "We know that when we shoot, we can score."
However, despite the positive, confidence-boosting start to conference play, Kuhn is making sure her squad stays humble and works hard. Magliocca said that the new mantra around the team is that, in reality, they haven't "won" anything yet.
"Regardless of how we're doing, we have to stay humble and remind ourselves that we haven't won the conference, we haven't won nationals," Magliocca said. "We need to make sure that we take every team we play seriously."
Kuhn said that the character of the team is growing due to staying humble and picking up wins.
"I think going into this week, we are carrying a bit of confidence, which is good," Kuhn said. "Rio and WVU Tech are two strong conference opponents, so we have to be at our best. We can't go into these games over-confident."
However, a little confidence won't hurt, especially in hopes to pick up the record at home. When the Pioneers dropped the first four matches of the regular season, three of them at Highmark Stadium, Kuhn said the return home has made players "anxious" to get on the field.
"We are playing better and I think that playing at home is going to be beneficial to us moving forward," Kuhn said. "As long as we cannot let the home crowd put more pressure on what it is we need to do, we'll be fine."