Pioneer Public – Laura Boyd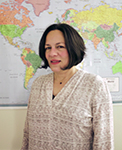 Hang on for a minute...we're trying to find some more stories you might like.
Before becoming an associate cinema professor at Point Park, Laura Boyd traveled the world as an expedition leader for a cruise company and pursued her passion for natural history filmmaking by working at National Geographic. 
"People would always say, 'when is she going to do normal things?'" Boyd said. 
Boyd originally studied art history and studio photography before she landed a job with a small cruise line that traveled from Seattle to Alaska.
 After four years, Boyd joined a natural history tourism company called Society Expeditions. Boyd worked as an expedition leader on the ship, which traveled from the Arctic Circle to the Antarctic Circle. 
"We'd go for whale watching, bird watching, natural history lectures," Boyd said. "We always had historians, marine biologists, sometimes national park rangers traveling with us on the boat and our focus was on natural history interpretation. So I got to go to remote parts of the world."
After nearly a decade, Boyd decided to try to find a job on land in order to stay closer to friends and family. 
"It was not a normal life at all. You would work for two months straight and have a month off," Boyd said. "They would drop you off in Chile somewhere and you'd spend a couple weeks in Chile and you'd go backpacking or something and then you'd fly home and it was great. But it was really work-focused." 
Boyd went on to work as an educational sales manager at IMAX, where she realized her dream was to produce natural history films.
"There was a very exact moment when I was standing in the theater and there was a bunch of little kids…watching Africa the Serengeti," Boyd said. "James Earl Jones was narrating as the wildebeests were crossing the plains and I just went 'Oh my God, why am I selling these films? I want to make these films.'"
Boyd found a brand new science and natural history filmmaking program at Montana State University.
"I can remember being in my office at the IMAX Theater going, 'they made this for me,'" Boyd said. 
Boyd said the program was looking for scientists, but accepted her because of her experience in natural history from the cruise lines. From there, Boyd began traveling again to create films. 
Boyd traveled to Easter Island in order to film her graduate thesis film, "Caballo Loco on Easter Island."
"A veterinarian found me who was working with horses on Easter Island," Boyd said. "He had discovered a disease that was killing the horses there and he had been there six years in a row, raised all this money to go and work with the horses and was going back and wanted somebody to go and make a film for him." 
Boyd stayed on the Polynesian island for six months before coming back to find a new job. Boyd knew an executive producer for National Geographic and toured the facility. 
"Before I left the building I had a job with National Geographic," Boyd said. 
Boyd first worked for the show "Dangerous Encounters" with Brady Barr. 
"Everything I was taught in grad school was you don't interfere with the animals, you don't plant animals in situations," Boyd said. "And here I was working for a show where they're wrangling crocodiles and holding up toxic snakes or encouraging snakes to strike." 
From there, Boyd worked on "Wild Chronicles," a National Geographic series that was broadcast on PBS that followed National Geographic explorers and scientists for two years as they traveled to different parts of the world. 
Boyd said one of the most memorable "Wild Chronicles" shows was in Australia, where she got to hold a wild platypus. 
"I got to work with a scientist researching platypus DNA and it was really amazing," Boyd said. "I never thought I would hold a wild platypus in my life and it was seriously one of the highlights of my career…This platypus was like the weirdest thing I had ever seen in my life it was great." 
During her time at National Geographic Boyd also traveled to Italy to film a documentary on vampires, where she spent six weeks following a forensic anthropologist.
Boyd also produced an award-winning children's series called "Wild Detectives." 
"If I could work on children's educational television like that I would do it for the rest of my life," Boyd said. 
Boyd eventually moved to Pittsburgh to be closer to family, and worked on films for the National Parks
Service. 
She also worked as a footage researcher for 'Cosmos, a Spacetime Odyssey.' She then decided that she wanted to teach. 
"My goal with the MFA [Master of Fine Arts] was to eventually teach," Boyd said. "I wrote to every school in Pittsburgh that had a film or cinema department or communications department." 
Boyd was hired by Point Park in 2011 and became a full-time professor in the fall of 2012. 
Boyd mainly teaches production classes, and said her favorite part of the job is watching the students realize that they can be leaders. 
"It's in them," Boyd said. "Helping them realize what they're capable of is the most important thing."