Women's soccer sets school record with eight consecutive wins, remain undefeated in RSC
Pioneers remain one of two unconquered teams in conference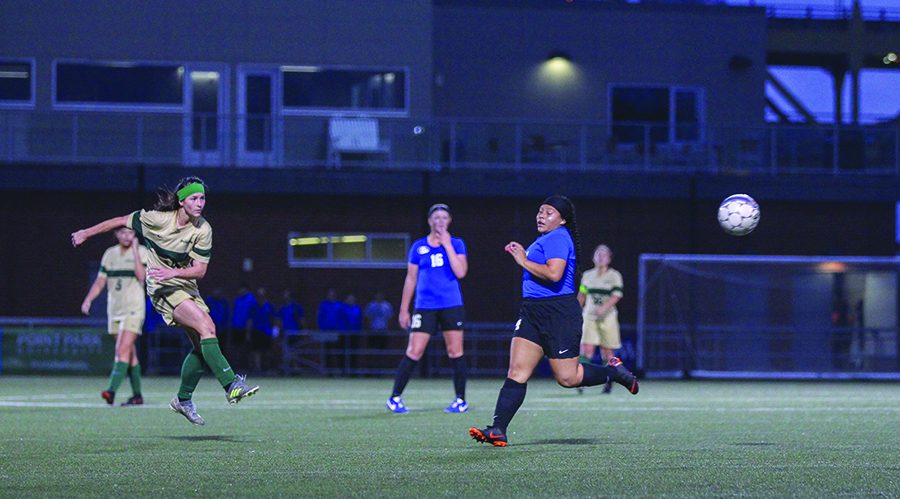 Written By Rachel McKriger, For The Globe
October 9, 2018
History has been made by the Point Park women's soccer team.
After defeating Ohio Christian University on Thursday, 2-0, Point Park increased its winning streak to eight matches. The feat broke the former school record of seven games. Meanwhile, the loss was the first in conference play for Ohio Christian.
The two schools have history. Last season, Ohio Christian defeated Point Park in the quarterfinals of the River States Conference (RSC) Tournament. This year, while not for tournament play, Point Park got a redemption victory with goals from freshmen Britney Adrian and Taylor Goldstrohm in the
second half.
Both goals came off of set pieces. Adrian's goal, assisted by Chloe Bowser, came off a free kick header into the net. Meanwhile, Goldstrohm's goal began with a corner kick. Originially, the ball landed to senior defender Abby Magilocca, but her shot was blocked. Goldstrohm then jumped on the rebound.
Magilocca is part of a defense that has had three-straight matches with zero goals given up. She says the feat is giving her confidence, as well as the defenders around her.
"Even though my confidence is high, we don't think we're unbeatable," Magilocca said. "Coach Kuhn makes sure we remain humble and focused. As a backline, we're going into these games confident since we've been doing well. We know what we're capable of. We work hard to achieve the same level of defensive intensity that we played in our games prior."
Meanwhile, Kuhn called Magilocca the epitome of what a student-athlete should be. Kuhn explained that her senior defender is also in ROTC, so she has physical training at 3 a.m. and then comes to practice with the same intensity at 6 a.m.
"She shows up to our training sessions and competes like she woke up with the other girls," Kuhn said. "Her energy level, leadership, work-rate and attitude is going to be missed a lot next year. She's really having a great year and she's complemented by equally impressive young ladies beside and around her."
With the help of Ashtyn Webb, Magilocca and the other defenders, Point Park limited Ohio Christian to six total shots, with four on-goal. After the match, head coach Maggie Kuhn said that the contest was close and "could have gone any way."
"We showed a lot of energy and heart in the second half," Kuhn said. "That was exciting for the coaching staff to see. I actually did not know about the record; I actually thought we did a while ago. That was exciting and well-deserved by the girls."
Point Park's dominant run began on Sept. 9 against Pikeville University. Currently, the Pioneers are undefeated in conference play with a record of 5-0. However, the team is 8-4 overall.
"We started out the season kind of slow, but getting that eight game winning streak gave as a ton of confidence," junior midfielder Gabby Widman said. "Having that many wins keeps our drive to win and do better. That's a huge confidence boost for these next couple
of games."
Now, the team is gearing up for a big rivalry test against Carlow University. Both teams use Highmark Stadium as their home field. However, Kuhn explained that sometimes Carlow doesn't practice on the Monongahela. Kuhn called that a bit of an advantage.
"This game always brings out everyone's best," Kuhn said. "I keep telling the girls that we need to keep our heads down and work hard. We had a couple good training sessions in going into Thursday. We have all the reason in the world to go into that game confident."
For Widman, it's all about controlling the
controllables.    
"It's time for us to step up and prove that we rule Highmark Stadium," Widman said. "It's going to be mentally and physically emotional."