Senior thanks family
Sam Weir prioritizes team in final season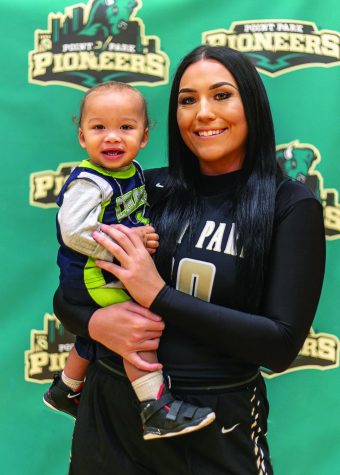 Sam Weir didn't even realize she scored 30 points.
The senior forward propelled Point Park to a victory over Ohio Christian University, 76-65, last week. It was a career-high game for Weir, who is a graduate student at the university. However, don't ask Weir about personal achievements.
She was just happy to see her team notch a victory.
"We had a huge advantage inside," Weir said. "I was happy that I was able to capitalize on that to help my teammates get the win. Although, it didn't even feel like I scored 30 points."
Weir is all about teamwork and pushing for wins. Point Park is currently in fourth place in the Rivers State Conference with a 3-5 conference record. However, Point Park is still pushing for a playoff spot with plenty of basketball left this season. After two straight losses, the Ohio Christian win is the opportunity for Point Park to turn the tide.
"Our goal is to win out and I think we are 100 percent capable of doing so," Weir said. "We are ready to focus and out-work every team we play."
There's hardly any "I" when Weir speaks. Her leadership is strong and firm. Weir said she doesn't sugarcoat anything. She'll point out what's not being done correctly, but will always provide support to fix the problem.
"I always try not to speak on anything I'm not personally doing myself," Weir said.
Weir is open to criticism again herself, too. She has willingly admitted to lacking on experience, being a senior and showcasing that on the court. However, she said that herself and fellow senior Kaitlyn Smith are going to "really start" showing on-the-court experience in hopes to secure more victories.
As for her own style of play, Weir is a commanding six-foot-one, and she isn't afraid to post-up and make her presence known in the paint and around other parts of the court.
"I draw a lot of attention that will open up my teammates," Weir said. "The spin move is definitely my go-to since freshman year, but I have broadened my game since then, expanding to the outside. My favorite part about being a forward is being able to help my teammates when they get beat and block some shots."
Weir's not afraid to get in the shooter's face, too. She has recorded 106 total blocks so far in her Point Park career, with 61 blocks occurring in the 2017-18 season. That season, Weir also recorded 200 rebounds in 24 appearances.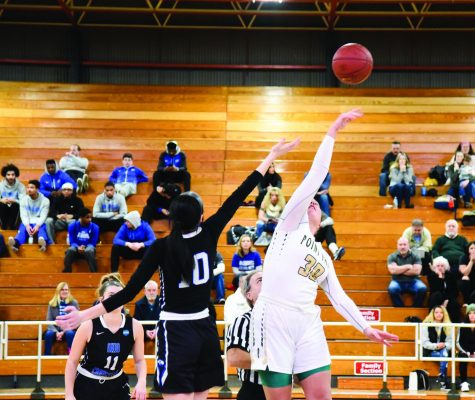 This season, Weir is putting up solid numbers. She has started seven of her eight appearances, recording 94 rebounds, 25 blocks and nine steals. On offense, she's a force to be reckoned with, scoring 113 points so far.
Weir credits a lot of her success to head coach Tony Grenek. Weir, who is a mother to her son, M.J., said that if it weren't for Grenek's support, she wouldn't have been able to return to the court.
"He's always given it to me straight up and that's made me a better player," Weir said. "He has helped me out in every situation, and I couldn't be more grateful. If he wasn't so helpful with my son, M.J., I would have never been able to continue my career after giving birth."
Her son is a motivating factor to be a better player, student and person, too. Weir is a local talent, hailing from Ellwood City. She currently resides there, traveling the hour-long commute down to the city for school and to spend time with her teammates on the weekends, alongside her family. However, her family attends every single home game to support her.
"My dad, grandma, uncle, boyfriend and son come to every home game, so that's definitely nice and something I'll always cherish," Weir said. "My dad hasn't missed anything since I started playing sports when I was four. That's always been so special to me. The best part about playing at home is getting to have most of my family there and we always have a pretty good atmosphere."
However, Weir admits that she would rather play on the road.
"I feel like we are the only team who doesn't get home court advantage and we have better called games on the road," Weir said.
One game on the road that Weir won't have to travel far for is against Carlow University, Point Park's in-city rival, on Jan. 29. Weir has the game circled on her calendar, as she wants to extract revenge for Carlow beating Point Park on the Pioneers' home court on Nov. 27. The close contest ended with a 73-63 final score.
"They shouldn't have beaten us the first time and they won't the second time," Weir said.