All in With Allison – Lack of Facilities, Not Successes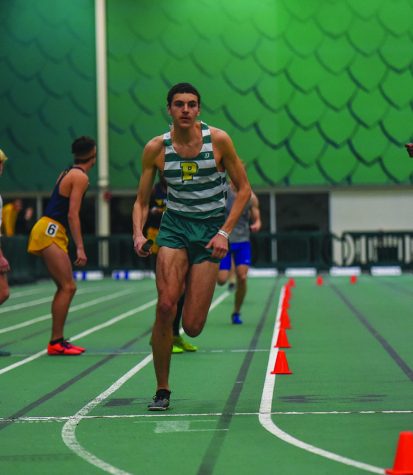 It is no secret that the track and field team has been doing amazing things this season.
My columns have often been telling of the successes of one or more athletes from the team this past year, and they have steadily become one of my favorite teams to cover.
All of their success is impressive enough, but what if I told you that they do not have facilities to practice in?
Correct, the Point Park men's and women's track and field teams do not have facilities to practice in, especially when it comes to the indoor season.
When it comes to outdoor season or cross country, they have access to Schenley Park, the course that they claim as their home turf, to practice with. That is just for distance runners, though.
When it comes to field athletes, jumpers, sprinters, etc., they are limited to the Student Center Gym and limited use of Schenley Park as well.
Simply put: their practice situation is not ideal.
This should not be seen as a negative, though, because they are thriving regardless.
Junior Xavier Stephens continues to set personal records, and he is headed to nationals over spring break to compete in the 1000 meter event, in which he qualified with a time of 2:32.42. Stephens hoped to qualify in the 800 meter event as well, but after track conversions in their most recent meet at Kent State, he fell just .05 seconds short of the national qualifying standard.
Senior Anna Shields, of course, is unaffected by the lack of facilities as well. At this point, practically every time she makes is a facility record or a personal record, but that is not even news anymore. Side note – Shields is also one of the nicest people I have ever talked to, so I don't think it's fair that she is nice AND talented. She is also headed to nationals over break.
Looking away from runners, the jumpers have also proved time and time again this season that their lack of practice facility does not affect them in the slightest.
Senior Michael Morris and junior Chance Callahan have both had the seasons of their career, setting personal records in several different meets. Most recently, Callahan placed fifth in both the long jump and triple jump at Kent State. His performance in the long jump was enough to set a new school record, and his triple jump qualified for nationals at the B standard.
Lack of facilities is a huge problem for us, a downtown campus.
Baseball plays in Green Tree, softball in McKees Rocks, basketball at CCAC – Allegheny (the closest of the "home" facilities), track and field in Oakland, and of course, volleyball being the only team to play on our actual campus.
Many of the teams have had a lot of successes recently (see my column from last week), so the lack of facilities might not be affecting the athletes as much as some might think.
In my opinion, the facilities affect fans more than they do teams. Fans are way less likely to travel far to watch Point Park's teams than they are walk a few minutes across campus to do so.
In my time working with athletics, I have noticed the amount of student fans that show up to games. Volleyball typically has the most and all of the other teams fall behind.
Overall, the Point Park sports teams have a lack of facilities, not successes. If it's not a problem for them, it shouldn't be a problem for us.