Wolfie's Pub opening Downtown, offering opportunities to students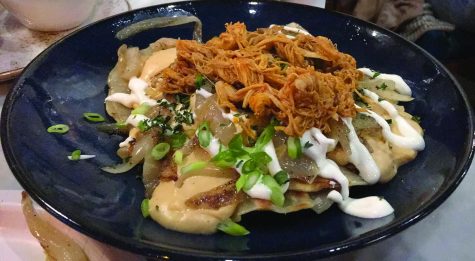 The closure of Pirata, a bar and grill on Forbes Avenue, came as a surprise to many.
"People loved the food, the atmosphere and the drinks, but there just wasn't enough foot traffic," Bob Wolfinger, co-owner of Pirata, stated.
However, a new restaurant called Wolfie's Pub, which will also be owned by Wolfinger, is set to take its place next month, and it will have numerous ties to the university.
Wolfinger stated that he hopes to transform the restaurant and attract faculty and students of Point Park in his new endeavor. He began by working with Steve Tanzilli of the Rowland School of Business in order to rebrand the restaurant completely.
"There's going to be new lights, new wall decor, new menus and we're adding outdoor seating," Wolfinger said.
Wolfinger hopes that students are receptive to the change.
"I want students in here," Wolfinger said. "I want this to be a gathering place and for it to feel comfortable. There needs to be great food, great service, great atmosphere, and a great vibe. I want people to walk out of here thinking that it's about time we have something like this in Downtown Pittsburgh."
Wolfinger is going about achieving this goal in multiple ways.
One way that includes the involvement of Point Park is the pub's involvement in the new "Music City Downtown" program, which aims to increase live music performances in the downtown area.
Wolfinger stated that he is currently working with Ed Traversari of Pioneer Records to host live music in the venue, which he hopes to have booked for at least five nights a week.
But the pub also plans to cater to students in other ways, specifically, through food.
So far, Wolfie's Pub has held four food tastings for prominent members of the Point Park community that have been working with Wolfinger to make the pub a reality. One attendant was United Student Government senator, Mathew Johnson, who has been to all four tastings.
"Each time we went we tasted different foods and we gave our feedback and critiqued it," Johnson, a freshman intelligence and national security major, said. "The food was always amazing. We never had that many critiques, just little things. But he [Wolfinger] really wanted to perfect it."
According to Johnson, the taste-testing menu has consisted of six different types of pierogies, three different types of macaroni and cheese, salads, wings, quiches, sandwiches and fries. Johnson also stated that the restaurant plans to provide vegan options as well, including a version of buffalo chicken dip made from jackfruit, which according to Johnson, tasted almost indistinguishable from the non-vegan version.
Specific potential menu items include a salmon salad, buffalo chicken pierogies, a fried bologna sandwich and molten lava cake.
"Food is amazing, and there's all kinds," Johnson said. "They do plan to have non-alcoholic 'alcohol' as well for students who want to go out with their friends but don't want to drink. But you'll still be able to have a non-alcoholic drink in your hand."
The pub is planning on partnering with local businesses for products, such as serving ice cream from Millie's, a local favorite of Point Park students, and alcohol from local breweries. The restaurant will also feature iconic Pittsburgh items such as BreadWorks bread.
According to both Johnson and Wolfinger, the pub is currently working with the university to try and allow students to use their Flex Dollars on menu items. Wolfinger met with Dean of Students and Vice President of Student Affairs Keith Paylo to communicate his vision of creating a place where students and faculty can gather and enjoy themselves.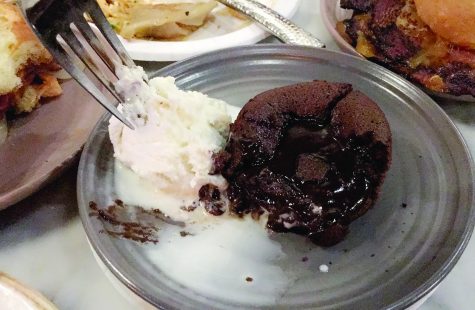 "Paylo is looking into the logistics of Flex," Wolfinger said. "I would love to extend an offer to students of using Flex in here.
"What they [Point Park University] don't have is a gathering spot. A place where students, faculty, alumni and parents can go and have a gathering place, and that's Wolfie's Pub."
Wolfinger also stated that he was planning on including an "alumni room" in his restaurant to showcase Point Park's history and that he also plans to pull photos from Point Park's archives to place in different areas, including the alumni room and a "Hall of Fame" leading to the bathroom, showcasing different musical and athletic achievements of Point Park throughout its history.
Phil Harrity, the university's archival services coordinator, is collaborating with the Rowland School of Business to incorporate Point Park's history in the pub's decor.
"As of right now, it's looking like we're going to have a timeline of Point Park located in the one room that is dedicated to the history of Point Park," Harrity said. "On the outside, there are going to be past symbols of the school, mascots, that type of thing. On the inside, there will be photos of student life, a timeline of the buildings we've inhabited and a blend of all the schools. There's also the possibility of having a sports timeline."
Wolfinger also explained the other ways in which students are getting involved with the project, including an interactive digital display on one of the restaurant's main walls. The wall would showcase different photos of the Pittsburgh skyline amongst other things.
"With the wall, bartenders can trigger different effects," Wolfinger said. "Like if the Pirates hit a homerun, we could put fireworks up there."
According to Wolfinger, Point Park students are being recruited to create part of the restaurant's decor, including tasks such as taking the photos that will be displayed on the wall as well as dealing with the hardware aspects of it.
Wolfinger is also partnering with Camille Downing, a graphic design lecturer at Point Park, to recruit graphic design students to design the pub's logo and menus.
Other students though, who are simply looking for new places to eat downtown, are excited to see what the new restaurant has to offer upon its opening. This includes Johnson.
"Honestly, whenever I do go in the future after they open, I don't know what I'm going to order, because it's all so good," Johnson said.
Allison Hritz, a sophomore secondary social studies education major, is also excited for what the new restaurant could mean for students and staff.
"I think it would be a really good opportunity to bring Point Park culture out into the community," Hritz said. "And if they can get Flex to work there, it will be another good option for students."
According to Wolfinger, Wolfie's Pub hopes to open its doors on either Monday, March 11 or Tuesday, March 12. However, this could be subject to change. New staff members are also being hired prior to the opening.
Overall, Wolfinger is excited by the amount of support from the university he has received, stating that he is "overwhelmed, but happy overwhelmed."
"I never thought the support from everyone at Point Park University would be as great as it is," Wolfinger said.