Women clinch playoff berth
Senior Night win grasps at least 3rd place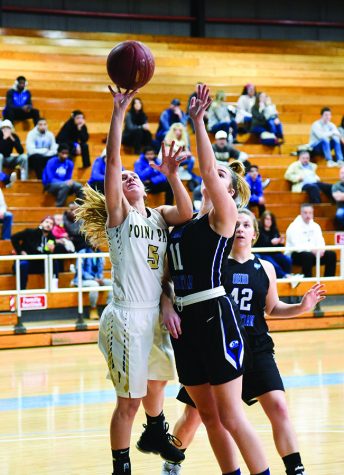 Before last Tuesday's game, the women's basketball team honored two of its star members for Senior Night.
Seniors Kaitlyn Smith and Sam Weir celebrated further with a 74-50 win over conference opponent Rio Grande following the pregame ceremony.
Smith and Weir made up half of the four starters that ended in double digits on the night.
Both of the seniors tallied 16 points apiece, and Weir made it a double-double with 11 boards and two blocks added to the mix.
Sophomore guard Michelle Burns added a team-high 19 points, and junior Baylie Mook rounded out the four with 10 points and five rebounds.
Throughout the entire 40 minutes, Point Park never trailed. Mook contributed her points early, as she made her tenth and final point when the Pioneers were up 14-9.
Point Park climbed up to a 22-point lead in the first half, but a 7-0 run by the RedStorm ended the half.
Despite the late run, Rio Grande, which was down three starters, trailed 41-26 at the end of the first 20 minutes.
With the seniors continuing to lead the team, Weir and Smith each made big shots in the third quarter to put the Pioneers up 63-38.
Point Park's lead reached 27 points at one point in the last 10 minutes before head coach Tony Grenek allowed the seniors and the rest of the starters to sit for the final three minutes.
The Pioneers' bench held onto their lead, eventually solidifying the 74-50 win.
After the big Senior Night win, Point Park headed to Beckley, W. Va., for a matchup against the River States Conference (RSC) East Division leader WVU Tech, which is receiving votes in the National Association of Intercollegiate Athletics (NAIA) Top 25 Poll.
Prior to Saturday's game, Point Park was the only team to dish out a loss to the Golden Bears in RSC play, a two-point differentiated game at CCAC – Allegheny.
The Pioneers shot only 36-percent overall compared to WVU Tech's 42-percent, resulting in an end to Point Park's four-game win streak.
Weir posted another double-double with 13 points and 17 rebounds, Smith tallied 10, and Mook extended her double-digit streak to three games, chipping in 11 points.
Point Park was outscored in each of the four quarters, and the Golden Bears took home the victory 78-60.
As of Sunday morning, Point Park sits in third in the RSC East and is officially headed to the post-season.
The Pioneers are 2.0 games out of second place behind IU East.
In order to clinch a home playoff game, the Pioneers would need to beat IU East, followed by Carlow doing the same the next day.
Only one game remains in the regular season for the Pioneers. Point Park will hit the road to take a  trip to Circleville, Ohio to take on Ohio Christian on Feb. 16.