All in With Allison – Sliding Into the Spotlight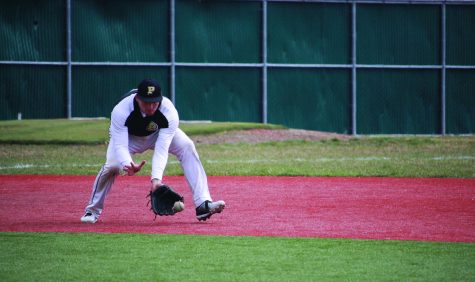 With the basketball season behind us, a lull in the track and field world and dance finishing up their season eighth in the nation, we have officially reached the transition point to spring sports.
With the spotlight seemingly empty at this point in the semester, this is when baseball and softball slide in.
Softball has not done anything since going 3-7 in Florida, so I will focus on baseball this week and we can delve into softball in a future column once their season has officially started.
Baseball, on the other hand, has gone 4-2 since coming home from spring training over spring break.
Coming into this season, Point Park was voted No. 16 in the National Association of Intercollegiate Athletics (NAIA) Top 25 Poll and has flexed their veteran roster since then.
Last year, the Pioneers made it to the NAIA National Tournament thanks to their impressive pitching staff, which was ranked second in the NAIA with a team ERA of 2.85. This year is no different for head coach Loren Torres, who has 13 total arms to go to throughout the season, most of which are returning from that showing last year.
Seniors Nick Beardsley and Felix Castillo lead the returning pitchers this season, with eight other pitchers-only and three two-way players adding to the depth of pitching roster.
Junior two-way player Cole Horew is arguably the most versatile player in the lineup. Horew is the only returning starting outfielder, with transfers and one freshman in contention for the remaining corner outfield spots. He also is one of the best returning pitchers in the rotation and boasts a .493 slugging percentage over his three seasons so far.
The infield took the biggest hit at the end of last season, but recognizable names to those who followed the team last year include senior third baseman and cleanup hitter Erik Montero, who also lead in RBIs last season, and senior Yuri Sucart, who will start at first base.
Both catchers this year have transferred in after graduating Chris Hernandez and Joe Spalick. Sophomore Luis Mujica from Lawson State (Alabama) CC and Junior Levi Martin from Cornerstone (Michigan) will sit behind the plate for the Pioneers, with Mujica getting the nod from Torres to begin the year.
So far, Point Park has gone 2-1 against WVU Tech and did the same in Rio Grande, leaving the Pioneers with their 4-2 RSC record thus far into the season.
I do think that Point Park has a deep, talented roster that will lead them to success this year, but I am definitely interested to see how the new players mesh with the preexisting fluidity of last year's team, specifically with talent behind the plate.
Hernandez was a backbone of last year's team and I think it is too early to say for sure how Mujica and Martin will fare as the season progresses.
Point Park was ranked No. 16 for a reason, but I hope they can hold onto the hype.