Alumni wedding at Carnegie Museum
Former students win love story contest for 'Third Thursday'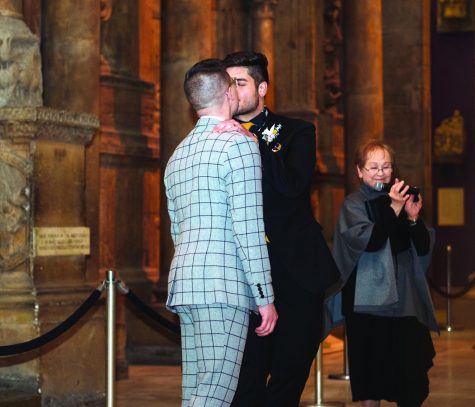 At the Carnegie Museum of Art on Feb. 21, former Point Park students Colten Gill, 24, and Louis Spanos, 23, said their vows in front of family, friends and paying strangers. 
The ceremony was held as part of the museum's Third Thursday events and was centered around a contest that required local couples to submit their relationship story, along with what it would mean to them to get married in the museum. 
Senior public relations and advertising major Morgan McCoy currently has Spanos as her intern supervisor at WordWrite Communications. McCoy initially found out about the contest and sent her coworkers a link through their group chat saying that someone should apply, which Spanos then did.
"Louis was like 'I'll never be picked' and was anxious about it every day," McCoy said. "[Louis and Colten] don't see themselves as uber popular people, but they are."
Gill and Spanos have been in a relationship since they were in high school, meeting at the Lincoln Park Performing Arts Charter School. During their time at Point Park, they both studied under the same sports, arts and entertainment major (SAEM) and were heavily involved on the Campus Activities Board (CAB). Gill graduated as CAB's executive director and Spanos graduated as their vice president of programming. The couple's time at Point Park enriched both their relationship and professional ambitions, according to Gill.
"While our downtime was typically spent attending meetings, brainstorming the next big event for campus or working tables at things like Late Night Bingo, we both got to see each other face challenges and grow as individuals, which made us stronger in our relationship," Gill said.
Current CAB executive director senior Kaitlyn Smith said that she looked up to them when she was just starting out in the organization due to their inspiring work ethic.
"It was such a great experience [working] with them weekly," Smith said. "Their passion for the organization was evident. They put their heart and soul into everything they did."
It's no surprise that same passion resulted in them winning the Carnegie Museum of Art contest, which received nearly 75 applications. Those applications were narrowed down to the top three with the winner determined by which couple got the most likes and shares on Facebook.
When they found out they won, Gill and Spanos had only three weeks to prepare for the wedding, which involved getting the space ready and sending out invites to family and friends.  Since this was part of the museum's Third Thursday, tickets were available to the public for $10 in advance or $15 at the door.
Members of the community came out in droves in their best formal wear to help celebrate the couple's union: velvet gowns, sparkly shoes and floral blazers were notable fashion highlights.  Point Park students were also among those in attendance.
Elizabeth Hunter, a senior multimedia graphic design major, heard about the event through a friend of Gill's, who she has met a few times.
"My friend Ariana used to work with Colten and her friend is also friends with Louis, that's how I heard about the event," Hunter said. "I also liked the photo on social media to make sure they won, which they did, which is exciting."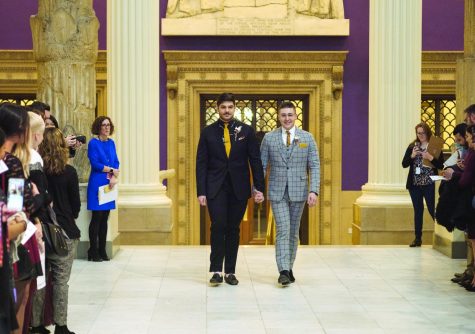 It was exciting for McCoy to experience something special in such a storied space.
"It was awesome, it's so funny because if you're a Pittsburgh public school student you go on field trips there, and I never would have imagined I would be there for this spectacular wedding," McCoy said.
The ceremony itself began around 8:30 p.m. when Gill and Spanos made their way down a makeshift aisle to Lady Gaga's cover of "Your Song."
After reading their heartfelt vows and the sniffles ensued, participants could choose to take part in either a guided art tour or a dance party followed by a craft session. The art tour was specifically love themed in regards to classic depictions of love and women.
Gill and Spanos did not seem to mind the prospect of strangers at their wedding, and embraced the idea due to their time working with the community on CAB. The ceremony was so memorable that Gill couldn't have imagined it taking place anywhere else.
"During the wedding, the space was beautiful, we got to meet so many wonderful new friends, and there's no other way I'd want to have gotten married to my best friend," Gill said.