Pioneer Public – Drew Praskovich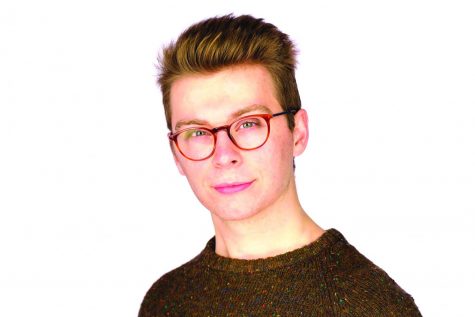 As a filmmaker, Drew Praskovich prefers telling stories about women, feeling more appreciation for the female perspective than the male perspective.
But when the senior cinema production major finally came around to making a movie about pregnancy, he made the main character a pregnant man.
"Something I really enjoy doing with my movies is sort of subverting and flipping sort of expectations of the audience," Praskovich said.
This final film is his strive toward creating work that forces people to pay attention—a happy ending to a journey that began the complete opposite.
"Point Park wasn't my first choice, so I think I came in with a bit of a sour attitude," Praskovich said. "I think I let that cloud my artistic creativity."
By sophomore year, he decided that no matter what, he was doing what he loved. And thus, "Pop Rocks" was born. Over the course of six minutes, the film begins with an "urban-legend-y" girl talking to a boy on an innocent, sun-drenched playground and later shifts to a room with hazy red lighting where the main character performs oral sex while eating Pop Rocks.
"I'm making bold choices and I wanted people to notice what I'm making," Praskovich said.
So did they  notice?
"Yeah," he laughed. "People are still like, 'That movie!'" He even showed it to his parents (but had them wear headphones, of course.)
Later that year, Praskovich directed a more personal film called "Shepard," which recounts the anti-gay hate crime murder of Matthew Shepard on Oct. 6, 1998 when Shephard was beaten, tortured and tied to a fence in Laramie, Wyoming. Growing up as a Catholic, Praskovich paralleled this with the stations of the cross in Jesus's crucifixion.
He described it as "the first time something really spoke to [his] identity of being a gay man."
Praskovich himself didn't come out until his last week of high school, but he didn't want to make the same mistake of not being who he was in college.
"If no one's going to tell my story, then I'm going to have to do it myself," Praskovich said.
As for this final film, titled "Seahorse," the concept comes from a long-time fascination with pregnancy– something he describes as a "magical thing."
"It's literally my child," Praskovich said. "Like the characters giving birth, it's like me giving birth to this movie."
Filming wrapped in early February, but Praskovich wrote the first draft in April 2018. He said the entire film should be finished this April.
Beyond that, he wants to give himself a year to move and find work either in his field or in theater directing. Praskovich was also the first cinema major to direct a show for Pinnacle Productions, a production company that's entirely student-run.
"I'm ready to know who I am outside of Pittsburgh," Praskovich said. "I think Pittsburgh has taught me everything I know and I want to show the world what a Pittsburgh person can do."
Despite this city's affordability, Praskovich emphasized he wants to be in New York where he can still enjoy winter days.
"LA's a bit sunny  for me."