Pioneer Public – Kooper Sheeley
Written By Megan McKenzie, For The Globe
March 26, 2019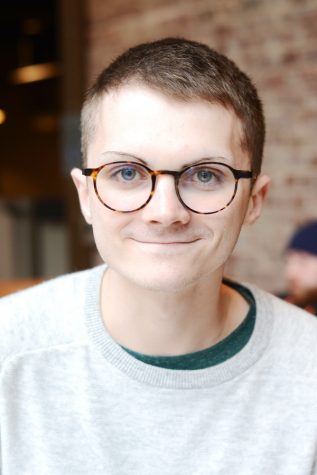 Kooper Sheeley, 20, confessed that he was a "people person at heart" and he wasn't joking.
"My freshman year I would literally ride the elevators up and down every day just because I got bored and wanted to make new friends," Sheeley said with a grin.
Sheeley, an SAEM major and mentor in the Honors Program, has made a lasting impression here at Point Park. Since he was a freshman, Sheeley has taken charge of his future and pursued any opportunity for personal growth. He has attended national conferences, specifically, the Association of Performing Arts Professionals and Performing Arts Exchange.
"I got to work with people from all around the world, which was insane," Sheeley said. "I went to my first one my second semester of freshmen year, which was intimidating, but I think it was the thing that definitely swayed me into keep doing it, finding a true passion."
In addition to these conferences, Sheeley had an internship with the Pittsburgh Public Theater where he had the opportunity to work on their Shakespeare Monologue and Scene Contest.
"I loved every part of that," he said. "It was my first experience with a professional theater, and that experience was hands down the coolest experience I ever had in my entire life."
However, Sheeley said his proudest accomplishment was becoming a resident educator here at Point Park. "Being a resident educator really did change my perspective on who I was as a person and…my perception of the school in general."
Sheeley wasn't always sure about his interest in performing arts. As a child from Plainfield, Connecticut, he went most of his life intending to become a general physician. But in his junior year of high school, he found a passion for performing arts. But Sheeley did not want to be on stage. He wanted to be involved in the business side of it.
"I realized that there was definitely an aspect of it that I felt like was missing," he said. "And then when I saw Point Park's SAEM program, I was like, 'that's it.'"
After graduating this April, Sheeley will be attending University of Pittsburgh in August for Higher Education Management. In the future, he isn't quite sure where he will end up, whether it will be working in residence life at a university or in theater professionally.
"I'm open to anything, in all honesty," Sheeley admitted. "I love living life just as it comes."