SAEM Club puts on multi-talented concert
Allissa Logsdon, Brighton Boys, Chris Jamison perform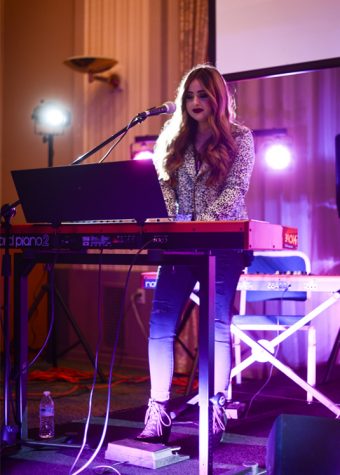 The Sports Arts and Entertainment Management (SAEM) Club hosted a tiered concert in the Lawrence Hall Ballroom on March 14 featuring Pioneer Records star Allissa Logsdon, two-thirds of local group The Brighton Boys and former "The Voice" contestant Chris Jamison.
The concert is a continuing part of the club's spring concert series until the penultimate Spring Fling concert on April 12. The events started around 7 p.m. when Logsdon took the stage to perform originals, as well as covers. Leading up to the concert, Logsdon was unsure if she was even going to be able to perform.
"I was really nervous leading up to it because I had laryngitis like only five days to the show and I had zero voice," Logsdon, a senior SAEM major said. "I was petrified, I didn't know if I was going to get it back and even if I did get it back if I would sound how I'd want to sound for something as big as [the concert]."
The event has been in production stages since December with organizers working on both the production and marketing side. Shay O'Neil is a freshman SAEM major and part of the club who worked on the event's production.
"I'm in the club and I'm on the entertainment committee and whenever they gave us the flyer I was excited because I knew who he was [Jamison] so I wanted to be as involved as possible," O'Neil said.
O'Neil worked ticketing at the event and worked VIP at the end for the meet and greets with The Brighton Boys and Jamison.
The event also served as fitting promotion for Logsdon's concert at Stage AE on March 19. Pioneer Records had a table at the event and had flyers about the event which will also serve as her EP release party.
Aimee Renninger, sophomore SAEM major, is an operational intern for Pioneer Records and helped make sure everything was running smoothly for the event.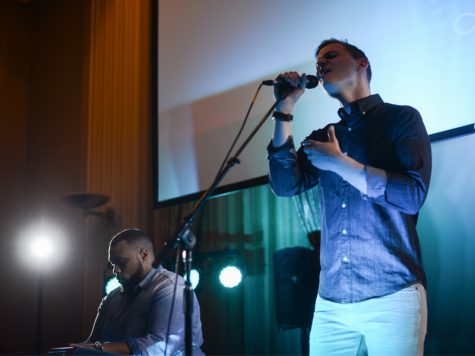 "She has her EP release party next Tuesday so we're just going to promo real hard for that and a concert on Tuesday with collaborator Victor Gariseb, along with Meg Wills who will be opening," Renniger said.
Fans for The Brighton Boys and Jamison also came out to show their support. Freshman cinema production majors Adam Jackson and Justin Chadwick were in tow with posters that featured lyrics from The Brighton Boys.
"It's like Charlie Puth but better," Chadwick said.
The Brighton Boys also performed a set of stripped down originals and covers that included John Mayer's "Something Like Olivia." After a brief intermission, Jamison took the stage to showcase his high falsetto voice that earned him a spot on season seven of "The Voice."
He also talked about the process for writing his upcoming album due out in the spring and infused heartfelt connections into his song. "Coffee in the Morning" was written as a promise to his new wife for their wedding reception.
Logsdon said the concert was an important experience given the artists involved.
"Leading up to it was stressful, but it worked out good," Logsdon said. "[Jamison] and the Brighton Boys put on a good show."
Logsdon describes her music as having a "creepy vibe" thanks to dark lyrics. When she performs live she tries to infuse some fun, popular hits.
"When I perform, I try to do covers that are a little more upbeat so it's interesting for the audience," Logsdon said.
Logsdon will be performing at the Spring Fling concert on April 12 with Gariseb.