Spisak molding into his own
New head coach preparing for outdoor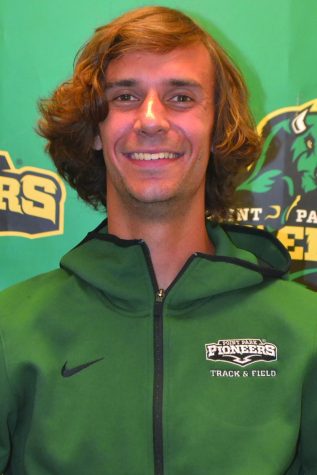 The last few months have been a whirlwind for James Spisak.
After joining the Point Park University track team as an assistant coach, with focus on the distance runners, Spisak was named interim head coach on Feb. 18. Spisak, who replaced former five-year head coach Kelly Parsley, has been taking advice from his former coaches to mold into his own.
Spisak was a distance runner at Duquesne University and then went on to the University of Pittsburgh as a volunteer coach. Meanwhile, he spent a brief period of time in Rhode Island, where he coached at the middle school level.
This past summer, Spisak joined back into the ranks of collegiate coaching. Like most track and field coaches, he helped out with the cross country season. Now, in his group of distance runners for track and field, Spisak says he has about 20-25 runners.
But now, he has to focus on the whole team, not just a small group.
Spisak said the first week was busy with logistics and "letting the dust settle."
"We had a meet the next day when the whole change happened," Spisak recalled. "The next week we were taking Anna Shields to the National Championship meet. But, it's been a pretty smooth transition. I think the morale and attitude of the kids has been great. Last week was really positive."
Spisak understands the complexity of the situation, with everything happening so quickly. However, he has expressed his appreciation for his runner's dedication not wavering. His own dedication hasn't wavered either — and neither has his confidence.
"I was in contact with John Ashaolu, the athletic director and Dean Keith Paylo," Spisak said. "They asked if I was confident, if I could hold down the ship. I said absolutely that I was confident of doing a good job in this position. We have a great staff around me with the assistant coaches. The team itself is a great group of people. Getting to work with these kinds of people with such good attitudes is something that I was excited for. It's a good team to be around."
Those assistant coaches he mentioned includes fourth-year coach Oronde Sharif, John Walsh and Tim Creamer. Sharif mainly works with sprinters while Creamer works with jumpers, former coach at Seton Hill University.
"Their help and them playing a big role in what we are doing as a unit has been really good," Spisak said. "When I first was given the position of interim coach, I said to them that we're all in this together. It's not a total dictatorship and we're going to work together as a unit."
Not only is Spisak learning from his assistant coaches, but he's taking what he's learned from his own coaches. Spisak has been a runner since his early days, but admits to being "bullheaded" in his youth. Now, he's learned how to maintain and establish taking the ups and downs in stride. That's a lesson he's passing on to the Point Park team.
"We have to be very level-headed," Spisak said. "We don't need to freak out if we had a bad day, had a couple bad races or feel a little banged up. In the past, I was stubborn with these things and didn't always take things in stride. Learning from that experience, I can provide more of a calculated, measured approach to the kids. In a sport where you want to succeed so bad, it's hard sometimes."
"Everything they're experiencing, I've been through in terms of the racing and running."
Spisak also said that being exposed to the sport early helps. While he wasn't an official college coach until coming to Point Park, Spisak said that his connections in the sport have exposed him to veteran coaches who have given him advice.
Just like every coach, he has some challenges. His biggest has been the logistical, behind-the-scenes, work.
"It's become apparent that a lot of the behind the scenes stuff that goes into running a program is necessary, but it's been a challenge," Spisak said. "It's been a good crash course, though. As far any surprises, though, I would say that the reception of feedback and how eager to improve the group in general is, the whole team. You don't expect someone to be negative or a bad person, but any feedback on my end, the attitude is really good. It's a pleasant thing to be around on a daily basis."
With the indoor season coming to a close and the outdoor season picking up, Spisak is hoping to help his athletes accomplish more than they already have.
"We, as a coaching staff, are hoping to scaffold them and hope to provide the best experience," Spisak said. "It's ultimately about the kids and the team. I'm confident that it's going to continue and progress from here on."