All in With Allison – Tarr on the Rubber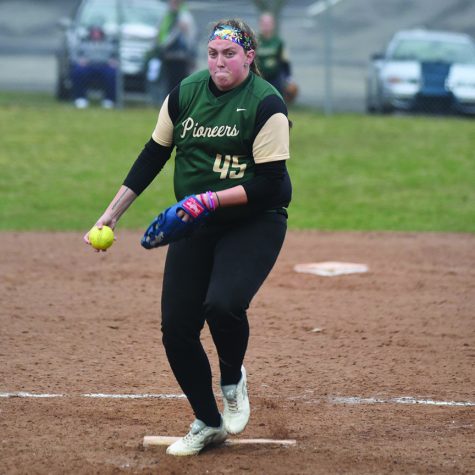 Katie Tarr may be a junior, but the 6-foot-1 pitcher from Burgettstown has been showing that her talent ages like a fine wine.
In just 12 games played this season, 11 of which were starts, Tarr has already racked up 110 total strikeouts. Last year, Tarr totaled 120 strikeouts over 20 games played.
That is just ten less strikeouts than last year in only 1.2 less innings pitched when you break it down.
After watching a few games and talking to some of Tarr's teammates, it is clear that she brings a lot of life to the team – both in terms of play and in the dugout. Of course, this was most apparent to me in her choice of walkout song: "Big Poppa" by The Notorious B.I.G.
"Katie [Tarr] is such a dominating pitcher, easily one of the best in the conference," senior catcher Delaney Baumis said. "She is such a key factor on our team and for our wins. She is always willing to do what needs to be done, like coming in to close a game just to start the next game. She is such a great pitcher to work with and I truly cannot say enough about her."
Between Tarr and seniors Ashley Iagnemma and Tiffany Edwards, they have a combined earned run average of 2.69 overall and 2.12 in conference play. With 182 total strikeouts combined by the trifecta, the Point Park pitching staff ranks ninth among the National Association of Intercollegiate Athletics (NAIA) Division I in total batters struck out.
Tarr and the rest of the pitching staff are holding down the fort – now if they can get their offense going, we'd have a great team on our hands.