Pioneer Public – Cassidy McDermott Smith
Written By Miriah Auth, For The Globe
April 9, 2019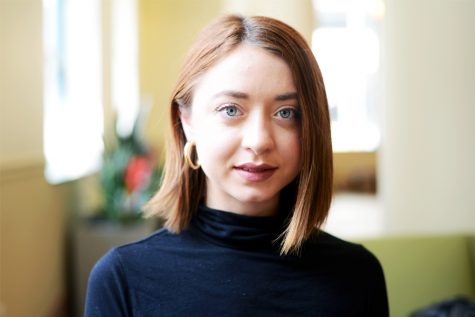 Senior BFA modern dance major Cassidy McDermott Smith came to Point Park from Sydney, Australia four years ago to study dance. Recently, McDermott Smith has made some changes to prepare for a difficult career.
"What I've spent all of my life working so hard for is so physically rigorous and it takes not only the energy of your body but also your mind," McDermott Smith said. "It just takes so much care."
Over the past six months, she's gravitated towards meditation, yoga and cooking healthy meals. She faces a hard career ahead as a dancer in the states, since the arts community is underfunded in America.
"The dance companies in America get funded primarily through private sectors whereas in Australia, there's a lot of government funding going to the arts," McDermott Smith said. "That kind of allows artists to be seen as people doing a job and they should be getting paid for it."
Being an Australian native in our current political climate has led to some setbacks for Smith's career.
"The Trump administration is making it really hard for people like me," McDermott Smith said. "You've just really got to prove why you want to be here and what you have to offer the country."
She's seen friends of hers from Sydney being sent home because they couldn't prove they were working effectively in their field. Smith must be ready to prove she has a career here by graduation.
"To be a freelance artist, I have to have an extensive portfolio of work that I can do here to prove to these officers that I can make a living being a freelance artist," McDermott Smith said. "They don't want me taking other jobs outside of my field and most companies aren't paying us minimum wage or even close."
Although she faces many challenges in the immediate future, she still maintains a positive outlook.
"I love how competitive people are in America and I think that brings out this really unique work ethic," McDermott Smith said. "There's nothing like the work ethic in Americans […] There's this need to make the dream happen."