Pioneer Public – Chris Sichi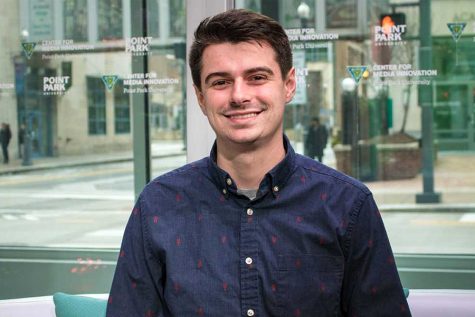 Chris Sichi has always loved producing content like videos and podcasts, so as the lead
studio technician at the Center for Media Innovation (CMI) at Point Park, he helps both students and outside clients create the projects that they want to create.
"So I've always been interested in video, ever since I was in middle school and we'd
make all these stupid videos and post them online of my friends doing BMX tricks," he said.
Continuing into college as a telecommunications major, he would use this natural inclination to
make multimedia content in his role in an alternative music club at Penn State, making videos
and even podcasts featuring different alternative bands.
Fittingly, his favorite part about his job at the CMI is helping clients make their visions a reality. He also enjoys helping students learn to use the equipment to make their own projects,
one such example being the live election night show put on by UView.
However, for Sichi, working at Point Park was something that was originally only supposed to be temporary when he applied here after graduating college, as opposed to the full-time job he has taken.
"I started part time and then two weeks after I started, [the previous lead studio technician] told me he was moving to LA, so I didn't know what was going to happen," he said. "Then they ended up just bumping me up to where he was at and I was very fortunate and very
lucky."
When he isn't helping others produce, he hangs out with friends in his free time and plays card games.
"I have a lot of nerdy hobbies, I think the biggest hobby that I have is playing Magic the Gathering," he said, laughing in between sentences. "So two to three days out of the week I'm
usually slinging cards with my friends, actually sitting down and playing card games, and I play
video games."
In the future, Sichi sees a great career involving creating content for the internet. While he loves creating videos, he could also see himself producing something specifically for use on
the web, like social media. He could also see himself working for production in Esports, which is the professional and competitive playing of video games.
"Esports is something I have a passion for and I think there's a big future in the production side of that kind of stuff," he said. "I think that something that resides online is where I want to be in the next couple years."