Pioneer Public – Diego Febres-Cordero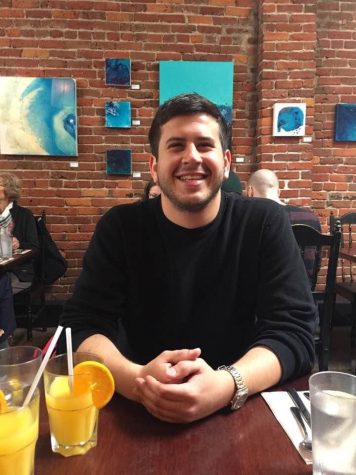 Diego Febres-Cordero, 25, has had a nonlinear college career, taking him from local universities like Gannon in Erie, to studying all the way in Spain.
The junior PR and Advertising Major started at Gannon University on a soccer scholarship and went to CCAC after a few years before making the big move to Spain to study at the University of Granada. All of these experiences helped give him a better outlook on education and determine what he wanted to do.
"It definitely was a process of elimination and that sucks to say cause its so expensive," Febres-Cordero said. "I didn't know what I wanted to do, I took a lot of exposure to things, my commitment to education, and found a creative aspect to the marketing side that I like."
Febres-Cordero has been to 19 countries the last time he checked, with a trip to Portugal in August as the most recent. Growing up, he often made visits to Venezuela and South America where most of his family lives.
"My parents wanted us to be more exposed to that type of environment, get us that home feeling that we were missing," Febres-Cordero said.
The Cultural Experience Abroad program in Spain was a way for him to continue that in his adult life. It was originally supposed to last four months, but Febres-Cordero stayed for 11 months and detailed the rewarding experience.
"I lived on my own in an apartment, we had to go to the market, interact in Spanish, they wanted you to get out there and be interactive in that environment, we met so many people and got a lot of connections around the city," Febres-Cordero said. "Everything there is so fresh, in the morning you'd go get a lot of loaf of bread and the next day that loaf of bread would be stale."
Seeing the sights around Granada changed his attitude toward learning and wanting to be in school which has carried on to his time at Point Park.
"Greek life at Gannon was a lot more controlling, if you weren't involved in Greek life you didn't really have a social life," Febres-Cordero said. "This is a campus where people hang out, there's always something to do."
Febres-Cordero plans to work internationally for a major PR firm and travel to countries in Asia after graduation.