SAEM club puts on 'End of the Year Bash'
Written By Mya Burns, For The Globe
April 9, 2019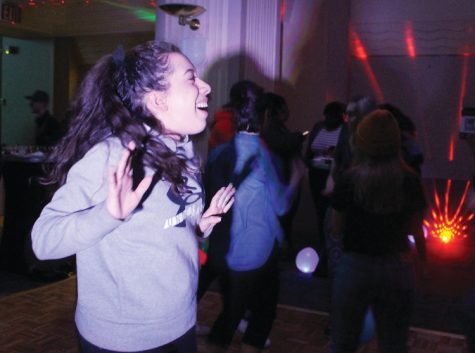 On April 3, 2019, SAEM Club held its End of the Year Bash in the Lawrence Hall Ballroom. The event was chock-full of lights, balloons, pizza and mocktails. According to Nate Grossi, the president of SAEM club, this party was a great end to a successful season for the club.
"We're having this to celebrate all of the events we've done this year," Grossi said. "And give students a chance to party out the school year and kind of relieve stress before finals."
Grossi, a junior SAEM major, said that the club started with the idea of giving students the opportunity to de-stress in a way that was popular with them in the past, so they reached out to the DJ from the now closed Cruze Bar and planned from there.
"We just knew that it was popular with Point Park students so we reached out to him and picked a date that he could do," Grossi said.
From there, the club got lights to fill the ballroom, planned the mocktails they would serve and then reached out to Pioneer Records so they could premiere the music video for Allissa Logsdon's new song.
"The music video class and Pioneer Records worked together to do the music video and at 8 p.m. they're going to debut that in our event," Grossi said.
Aimee Renninger, sophomore SAEM major and operations intern at Pioneer Records, said that this event was a great opportunity for the two student organizations to work together.
"Usually we do our own event, but we just found that partnering with the SAEM club would be a good way of getting more people to see the video," Renninger said. "They already have, like, the venue area, and an amount of people are going to come anyways, so we just thought this was the best way to get the most attendance possible."
Grossi said this event not only gave students the opportunity to de-stress, but also gave SAEM club members the chance to celebrate all of the events they put on this season. Some of the events they held this year included a lip sync battle with special guest Miss Coco Peru, a performance of the Rocky Horror Picture Show, a performance by Chris Jamison from The Voice and Point Park Has Talent.
Renninger also said she believes that this party was a nice way to close out the school year. Pioneer Records recently finished recording and premiering Logsdon's first EP.
"Our artists get to make a three-song EP at Red Caiman studios, and then we do a release party at Stage AE at the club," Renninger said. "Allissa and Victor both performed, we had an opener, Meg Wills, and yeah, that was an awesome success, they got to play and that was a really fun time."
In the future, Renninger said that Pioneer Records will continue working with artists that are students at Point Park through their booking agency.
"We've been putting on those artists that aren't necessarily Pioneer Stars but they're still artists that go to Point Park, and just giving them shows around Pittsburgh and on campus," Renninger said.
As far as future plans for SAEM club, freshman SAEM major Shea O'Neill said that she's very excited for events that are in the works.
"We were talking about possibly getting a YouTuber for a speaker series, so I would definitely love to see that," O'Neill said. "I'm excited for our spring concert already next year, we have a few plans but nothing set in stone yet, so I'm excited for everything."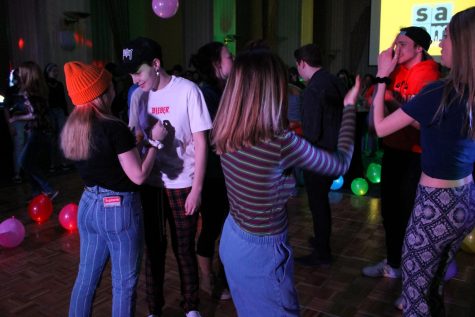 O'Neill said that a lot of work and planning went into the End of the Year Bash, and she was excited to see how the planning comes to fruition.
"I think overall a lot of people are hesitant to, if there's like a performer or something like that they may be hesitant to come in, but it's just a big party and there's free food so that's obviously a good thing for college students," O'Neill said. "I think it'll draw a lot of people."
O'Neill, who was just nominated to be the Vice President of SAEM club starting next year, said that Point Park and SAEM club have already given her valuable experiences both for her college experience and her career path.
"First, being at Point Park has helped me find people that are like-minded and that enjoy the things I enjoy," O'Neill said. "With my major it's helped me figure out like, booking and all of those kind of things that you wouldn't know otherwise, so it's given me a lot of experience."
Lexi Borgia, a sophomore SAEM major that attended the event, said that getting involved on campus in clubs like SAEM club and many others, is vital to your college experience.
"It's really important, and anybody on campus should get involved with anything, even if it seems like you wouldn't be into it," Borgia said. "You could meet some really awesome people this way, and it just upgrades your college experience." She also said that events like the Bash give students a healthy alternative to either sitting in their room, or getting into dangerous situations at outside parties.
"I mean it stops a lot of problems from happening, like underage drinking or accidents or anything like that," Borgia said. "I also believe that it's really important just to have these kinds of on-campus events because everyone can kind of get to know each other and it makes it feel like Point Park itself is more of a family."
As far as advice for students looking to get more involved, Borgia said that Point Park makes it easy for you to find an event or a club that is the right fit for you.
"Literally just keep up with the Social Scoop, and any marketing, I feel like the school is pretty good at marketing events," Borgia said. "If you get out of your room, you're bound to find something to do."