Obituary: Officer Calvin Hall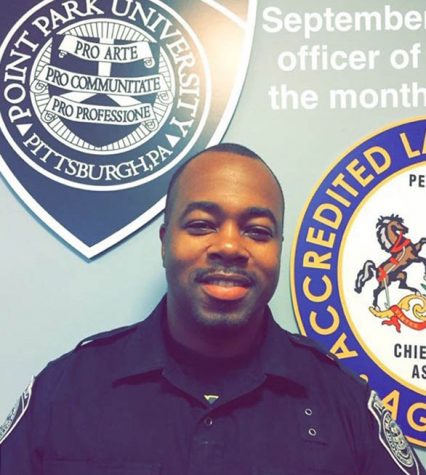 Calvin Maurice Hall, 36, of Pittsburgh, Pa., passed on July 17, 2019, according to the Waters Funeral Home website.
Officer Hall formerly worked at Shuman Detention Center and UPMC McKeesport. He then served as a police officer for Point Park University Police and Braddock Police before joining the City of Pittsburgh Bureau of Police.
Officer Hall was named Point Park's Officer of the Month for September 2017, and he was a current student at the university about to earn a degree in criminal justice.
Jeffrey Besong, Assistant Vice President and Chief of Police for Point Park University released a statement on the university police department's Facebook page on the death of Officer Hall:
"Calvin Hall made his mark as an exceptional police officer in his two years with the Point Park University Police Department. I hired him with the hope that he would be part of the Point Park family for years to come, but the Pittsburgh Police came calling, as they saw the same things in him that I did. There is no shortage of people who loved Calvin, and we join them in mourning this terrible loss. Our hearts are with his family, and his brothers and sisters with the Pittsburgh Police. This city and University has lost a great servant and ambassador."
Officer Hall was fatally shot in Homewood on the morning of July 13. He was struck three times in the back, according to Pittsburgh Police Chief Scott Schubert. It is understood that Officer Hall was off-duty attempting to break up a fight when he was shot, according to Lieutenant Governor John Fetterman.
Main roads, bridges and tunnels were shut down for Officer Hall's procession to and from the service on Monday, July 23, 2019. The fallen officer's public service was held in Pittsburgh's Oakland neighborhood at 11 a.m. at Soldiers and Sailors Memorial Hall.
According to the Waters Funeral Home website, Officer Hall is survived by his fiancee, Angel Warren; mother, Louella Hall Carter, and father, Curtis Washington; stepmother, Patricia Rucker Garfold, and stepfather, James Morgan; sisters, Eugenia Hall and Tamaris Washington; brother, Curtis Hall; and a host of uncles, aunts, nieces, nephews and cousins. He is preceded in death by his grandfather, Charles Calvin Washington; grandmother, Hilda Washington; grandfather, Benjamin Hall; and grandmother, Ernestine Hall.
Officer Hall's loved ones will remember him for his unconditional love, his devotion to uplifting the communities he served, his smile and his personality.