Fall semester brings fun festivities near campus
As the warmth of summer cools down, these fall city hot spots heat up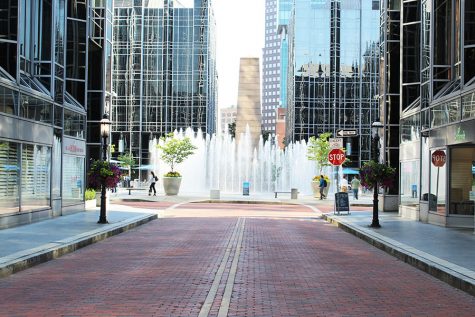 The beeping of the Boulevard walk sign, the buzzing of emails flooding inboxes, the panic of whether or not you should drop that stupid gen-ed your friend made you sign up for: all of these things are tell-tale signs of fall at the good old corner of Real and World. 
Fall on any university campus can be both a blessing and a curse. On one hand, you finally get to see all of your friends that live too far away to be visited during the summer months, but on the other, classes and tests and extracurriculars and jobs and responsibility.
While the students of Point Park do not necessarily get to go on hay rides or watch the leaves change from green to beautiful shades of yellow, orange, or red, the city offers its own sort of fall magic all semester long.
Market Square
It is no secret that the city is a food desert – that is, fresh produce and access to other varying types of groceries are extremely limited (unless, of course, you already did all of your shopping at CVS and 7/11 – in that case, you are golden). 
Market Square is just a short walk away from campus, and during the fall semester, students can have access to a plethora of fresh fruits and veggies from their farmer's markets on weekends. Pro tip: you can also buy pumpkins at these pop-up markets to decorate your dorm for the spooky season or even carve with friends!
On any non-market day, there are also bakeries and restaurants that quickly become favorites to students that live downtown.
Shuttles
Need a little time away from campus or Market Square is not your ideal shopping ground? The shuttles make weekly trips to East Liberty on Sundays and the Waterfront on Fridays for more shopping opportunities – both retail and grocery.
The East Liberty shuttles make stops at Trader Joe's, Whole Foods, Target, Aldi, and plenty of other shops for all of your food needs. There is even a Petland (with puppies!) if the need for a furry distraction arises.
The Waterfront shuttle makes two stops – one at the Target, which neighbors a TJ Maxx, Michael's, and other chain retail stores of the like, and one at the movie theater, which is just across the street from a big shopping plaza complete with a Yankee Candle, Ulta, and clothing stores mixed in with food boutiques and wineries. 
The Point
If there comes a need for a nature break – which happens a lot when you are constantly surrounded by buildings and gray – Point State Park is about a ten minute walk from campus. There, the trees turn colors, the people-watching is in full effect, and it actually feels like fall. 
The student center gym offers free bike rentals to all students, and the paths at the Point are a perfect opportunity to utilize those resources and take a break from the demanding life of a student, not to mention the views from Confluence Point (the very tip of the Golden Triangle in front of the fountain) are incredible.
North Shore/Monster Pumpkin Festival
If you ever feel the presence of fall lacking, then just head on over to the North Shore on the weekend of October 19-20 to take part in the second annual Pittsburgh Monster Pumpkin Festival.
For two days, students can watch pumpkin carvers, go on hay rides, eat fall foods, watch a giant pumpkin get smashed, and soak up all of the fall festivity fun for two days – and for free!
Can't make it to the North Shore that weekend? Well you can always go for a stroll along the riverwalk, eat at one of many numerous restaurants, or cheer on the Pirates and Steelers at a local sporting event, any of which are a fun way to get off of campus and celebrate being back for the fall semester.
MassMutual Ice Rink at PPG Place 
It may seem like Thanksgiving and Christmas are far away, but the semester will be near its end before you know it. Every November before Thanksgiving, Pittsburgh becomes a mini winter wonderland throughout the remainder of the holiday season.
This year, Light Up Night is slated for Friday, Nov. 22. Residents and out-of-towners alike bustle through the city streets to see the first tree lightings of the holiday season and take a walk through the seasonal attractions.
Market Square mimics Santa's village and fills its center with small shacks selling all types of knick knacks, goodies and stocking stuffers.
Just steps away from Santa's Village is the MassMutual Ice Rink at PPG Place, a Pittsburgh staple during the holidays. Operating until March 1, 2020, the $1 million  rink boasts a 65-foot Christmas tree at its center.
The price of adult tickets is $10, and skate rental is $4. After Jan. 2, students may pay a $3 admission fee on Wednesdays for Student Night.