Men's soccer looks to build off last year's run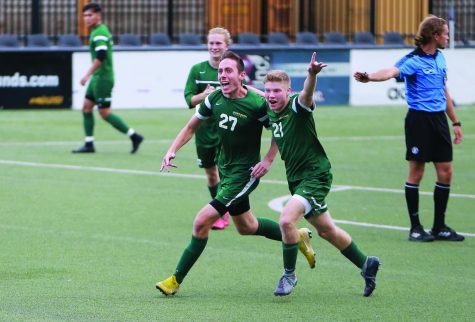 Long days out in the sweltering heat can break people down. However, for the members of the Point Park men's soccer team, it's just business as usual and another day of training.
The team is looking to build off their postseason run last year. After going 5-3-1 in the River States Conference (RSC), the Pioneers fell to Brescia University after a second-half game winning goal from the visitors. This year, it's going back to the basics for Point Park. Right now, with the inclusion of nine freshman players, it's all about building team camaraderie.
Senior defender/midfielder Wessel Rietveld said those long days on the pitch held build teamwork.
"We have a big group with a lot of depth and a positive attitude," Rietveld said. "Everybody is working hard. I think we have a really talented group this season that is able to achieve great things, such as winning the conference. We have a lot of new players that can directly have an impact on the team."
One of those new players is Allan Deyarmin from New Kensington, Pa. The freshman midfielder is already bursting with confidence after training with his new team. Deyarmin said that nothing can get in the way of this year's team.
"There is a lot of running, a lot of calorie burning and skill building," Deyamin said. "But, each morning we lace up our boots nice and tight to do it all again because as a team we have the competitive drive to conquer any other team that comes our way. We understand that, in order to succeed, we must train hard. Victory isn't just handed out."
Deyarmin said that working with upperclassmen players has evolved his training and his learning process. He called his teammates "great" and "constructive."
One hurdle he's been working on is communicating with teammates from different countries.Point Park's team boasts plenty of diversity, with 17 different countries represented.
"Each country plays soccer differently, so we all have our own individual play styles," Deyarmin said. "We have had no problems finding unity as a team."
Deyarmin and the other freshmen are learning the high expectations that Point Park has for its
program. Jonathan Hanks, a junior from Ohio, is looking to put the playoff loss from last season behind them and move forward. He wants to start the year off fast with some victories, as the team opened last season with lopsided results.
"I love coming back with my teammates and it's a good way of getting settled in early before classes start," midfielder Hanks said. "We have big expectations for this upcoming season and I think we've made some crucial improvements to the squad that can help us achieve our goals."
He called bringing in new freshmen a learning process, but said there are some talented newcomers.
"Everyone adds value to the squad in different ways," Hanks said.
As a junior, he'll be looked on for more leadership. Hanks said that he tries to give his best guidance to younger players. He stresses maintaining a positive attitude and he puts his best foot forward to encourage his teammates.
Rietveld is no stranger to being a leader, either. Entering his senior year, the Dutch native said it comes down to being a good leader on and off the pitch.
"We show them what kind of behavior is accepted on and off the pitch," Rietveld said. "Being on the  soccer team for Point Park brings responsibilities with you as an individual. We show them how to be a role model and represent the school."
Coming off an injury-riddled season last year, Rietveld said he appreciates coach Jeroen Walstra's belief in him and loves being a Pioneer because of him.
"I chose him over other coaches because I like his Dutch style of playing," Rietveld said. "You can see that he has been around for a long time and he has a lot of knowledge that is needed to win games. He also has a lot of experience about the other schools we face in our conference and that helps when we play them."
Does Rietveld also have those high standards for the program? You bet he does.
"We're definitely aiming for a Top 20 ranking in the country," Rietveld said.