"Tartuffe" a success in experimental theatre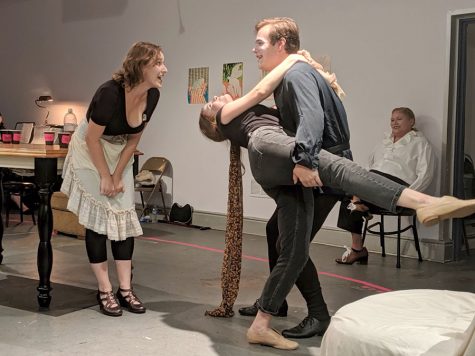 Last week, I had my first experience with "experimental theatre," and I wasn't disappointed. If we're being honest, it was one of the best theatre experiences I've had in a long time. Tartuffe, which has had five showings so far at the Irma Freeman Center for Imagination and will have two more on the last two days of August, is an incredibly fun experience which offered more from its source material than a regular production would.
Cup-A-Jo Productions, the company behind these showings of Tartuffe, specializes in stripping down traditional theatre to its bare bones to exercise more creative freedom with the works performed. If you asked me if I thought traditional theatre was limiting last week, I probably would have said no, but now I understand how stripping it down can enhance the viewing experience. 
What stands out the most about this production is the transparency of it all. Literally. There is practically no backstage. The cast put on their makeup in the lobby at tables separated from the attendees by pink tape. You could hear them talk and act as they really are. One of the first things I saw was one younger cast member teaching an older cast member how to dance 'the floss.' It was both charming and disconcerting to see the cast get ready for the show, and it made me feel like I was somehow more involved than I actually was. It's not very eloquent, but the best thing I could call it is an "Actor Aquarium."
However, the full effect of this decision didn't take effect until the show actually started. Tartuffe is a show with very rhythmic language, very stylized. It's French, and that should tell you enough. Seeing the actors don makeup, talk like human beings, and 'floss' becomes kind of bizarre when you proceed to see them deliver dialogue from a show first performed in 1664 with endless grace, charm, and near-parfait delivery. 
The dissonance you feel when you witness this tonal shift is intentional, however, as the show heavily features the theme of masks and masking the person you really are inside, and the transparency with the actors is supposed to embrace that. You can see actors during intermission. You can see them waiting in the wings, watching the show for themselves. 
I think, however, one of the best uses of the theme of this show lies with the lead, Everett Lowe. Lowe does not ready himself with the other actors. Instead, he sits off to the side of the stage, watching the initial scenes in the show that do not include the titular character. It is during this time that he begins to put on his costume and makeup. You get to see him 'put on his mask.' This is incredibly effective, especially when you can see that Everett Lowe, is a nice, pleasant person who shows courtesy to other actors, while his character, Tartuffe, has a dramatic, almost intimidating presence that  holds the audience at gunpoint and commands their attention. 
The rest of the cast was incredibly talented as well. Joe Cannito, while playing the role of Orgon, a man who is undoubtedly getting duped, displays range with his character. While his character is naive, it's clear that naivety is not his entire character. Maura Underwood as Elmire did a tremendous job of playing a character that was both subdued and strong. However, I think my personal favorite was Marsha Mayhak as Dorine. The character itself brings a lot of levity and wit to the show, and I think it's Dorine who the audience connects with the most. 
Cup-A-Jo productions is a group to keep your finger on in the future, for the experience they offered was one unlike any other. At the present time, they are planning a third installment of their interactive Halloween theatre experience "UNHINGED" and despite the fact that I'm the biggest scaredy cat I know, I'm already planning on getting a ticket.