Men extend streak with last-second goal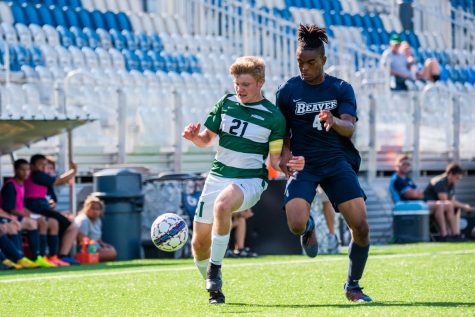 Whenever soccer fans express their love of the sport to other sports fans, they are normally met with harsh criticism. There's not enough scoring in soccer, most critics will say.
The Point Park men's soccer team put that notion to rest this week with an 11-0 victory over Penn State Beaver.
The match was on Tuesday, and the Pioneers also had to buckle down for a match two days later. Point Park picked up two wins this past weekend, cutting it close in a 2-1 victory over Washington Adventist University.
Their confidence has been buzzing with victories piling up. However, there was something special about the 11-0 win. Mitchell Roell was one of two players to score a hat-trick in the victory. Roell scored the first two goals of the match, only five minutes apart from each other.
However, the junior from South Park, Pa., does not take the credit himself.
"My first two goals were both just great balls being played by my teammate Yuki [Takeda]," Roell said. "The first one was played perfectly in the air behind the defense and all I had to do was get my head on it. My second goal was another assist from Yuki, and again he played me a nice ball in front of the net. All I had to do was put it past the keeper."
Victor Lorente Casaus also recorded a hat-trick with the Pioneers. On Tuesday night, six different players found the back of the net. Other scorers included Lloyd van Wees, Abdullah Aloufi, Lorenzo Diaz and Wessel Rietveld.
Rietveld credits hard, productive training to the positive results.
"We are working a lot on the transition between ball position and putting on pressure as soon as we lose the ball," Rietveld said.
The match against Penn State Beaver was the home opener for the Pioneers. After three-straight matches on the road, the Pioneers finally took the pitch at Highmark Stadium. Roell said it was nice seeing familiar faces in the stands.
"Having the home field advantage will never be a bad thing," Roell said. "We hope that more students at Point Park get a chance to come support us."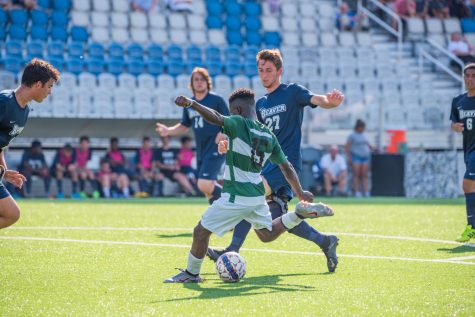 Meanwhile, Point Park also secured another victory just two days later. The Pioneers hit the road, traveling to Maryland to take on Washington Adventist. Point Park dropped early, with a goal from Daniel Moreira to get the Shock ahead. However, Point Park dominated the second half, with an equalizing goal from Emmanuel Ndayisenga.
However, it was Abdullah Aloufi that netted the game-winner with five minutes left in the match.
Freshman Allan Deryamin said the victories are helping the team with confidence and increasing the bond between players.
"You build stronger bonds and chemistry," Deraymin said. "You build more confidence in your own skill and ability to perform under pressure. I think the most important thing going into any game is camaraderie. It reinforces your mind knowing that you're going to be proud to play with your boys regardless of the match result."
Deraymin went on to say that this team is a group of winners.
"We never quit," Deraymin said. "We don't travel to different states to lose. We come to win, because we're chasing a national ranking."
Students will have a chance to watch the men's soccer team when they return to Highmark Stadium this Wednesday on the 18th at 4 p.m. against Ohio Valley University. It's the final match before the team enters River States Conference (RSC) play.