Men open season with split results
The long days of preseason are gone. Now, for the Point Park men's soccer team, it's all about finding results and earning wins.
Opening up regular-season play this weekend, the Pioneers produced one win and one loss. Friday's contest against Culver-Stockton College showed off the scoring prowess of sophomore Lorenzo Diaz. The Puerto Rico native opened up scoring just eight minutes into the match.
Fellow sophomore Conner Kelly said that opening the season with a win was a great way to begin the year.
"We were able to get the game started quick and establish possession from the first minute," Kelly said. "It's common for a first game to come out sluggish, but we weathered a good defensive battle after our early goal, and I think the boys played well and were all happy with the total team performance and the result. There's more work to do."
However, the Pioneers did not earn a victory on Sunday.
Staying in Canton, Missouri, the Pioneers took on Lincoln College. However, the Lynx were too much for the Pioneers, who ended up losing 3-2. Lincoln took the opening goal, but the Pioneers opened up the second half with a header from freshman Sam Truchot. As the match wore on, Lincoln took back the lead, but Point Park equalized once again in the 87th minute, with a one-touch goal from junior Kay In't Ven.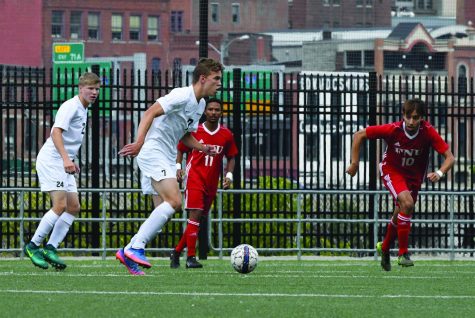 Disaster struck for Point Park a minute later, as the lead fell with a game-winning goal from Adrian Roman, who notched the first goal.
Despite the loss, Point Park has high hopes heading into a third-straight match on the road. Wessel Rietveld, a senior, said that it's his job to help players adjust and pick themselves up after a loss.
"The group this year is really willing to learn and work hard," Rietveld said. "This helps a lot for us. We've all been in the younger players' shoes and we try to make them feel at home in our team."
Meanwhile, Kelly said that continuing to have matches on the road doesn't bother him or his teammates.
"While we enjoy the comfortability of playing at Highmark on a familiar ground, we enjoy traveling and experiencing new places, teams and fields," Kelly said. "Starting the season away will strengthen us and prepare us for not only returning home, but for our conference games that we also have to play away from Pittsburgh."
Another player that's no stranger to being on the road for a long period of time is junior Jon Hanks.
"[We have to] maintain a positive mindset," Hanks said.
Point Park will take on Penn State Greater Allegheny in White Oak on Wednesday. Then, the team will gear up for their first home match of the season at Highmark Stadium. Point Park will host Penn State Beaver on Sept. 10.