Men take down No. 7 Ohio Valley before taking on RSC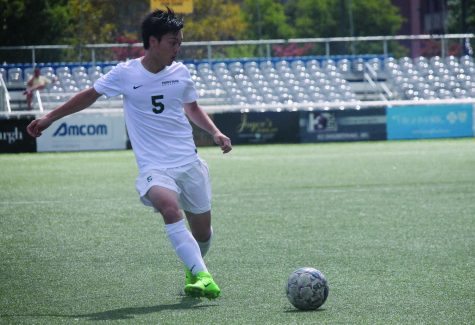 Point Park will begin their conference play this upcoming weekend. However, before RSC competition begins, the Pioneers men's soccer team wanted to add another win to boost confidence.
The task wasn't going to be easy, though. Point Park scheduled one more non-conference match against Ohio Valley University, a No. 7 ranked team. However, despite the number hanging over Ohio Valley, Point Park refused to be intimidated.
Instead, the Pioneers notched a major 2-0 victory.
Mitchell Roell said it was business as usual and the Pioneers kept their cool.
"Beating any team that is ranked is always a great feeling," Roell said. "We have a conference game coming up that will be against tough teams like Ohio Valley. Now I know I can score goals against these types of teams. This gave our team a lot of confidence in ourselves."
Roell scored the game-winning goal in the 28th minute. His goal was unassisted. Meanwhile, the first goal of the match was scored only six minutes prior to Roell's game-winner. German native and junior Jonathan Roos scored the opening goal, off an assist from Daan Stormink.
Senior Wessel Rietveld said that the win will give the Pioneers energy for a busy slew of matches.
"It was a great feeling and it showed us what we are capable of," Rietveld said. "Our group is great this year. It was a tough game, but we gave everything and kept the clean sheet. Defensively, we played really strong and were really dangerous on the counter attack. Next game, we can have more ball possession and dominate the game."
Point Park will welcome their first RSC opponent this Saturday. However, they'll face off with Indiana University East at a different "home" stadium. Instead of suiting up at Highmark Stadium, the Pioneers will make home at the Montour Sports Junction in Coraopolis, just 20 minutes outside of the city.
"We've played there before, but it's not our training field," Rietveld said. "It's not as comfortable as Highmark Stadium."
Meanwhile, Roell said that while playing at Montour isn't ideal, the team should still perform like they would on the South Side.
"It's a turf field and it shouldn't affect how we play our game," Roell said.
Point Park is heading into Saturday's match with a record of 5-1. Meanwhile, Indiana University East holds a 5-3 record and is coming off a victory against University of Saint Francis. Point Park does have a rest advantage, as Indiana will open up conference play on Thursday against Carlow. The Pioneers do not have another match before facing the Red Wolves.
Freshman Allan Deryamin said that the team is narrowing their sights on a national ranking after defeating Ohio Valley, but they're taking it one match at a time.
"We are only getting better, and everyone has a lot to look forward to from this team," Deryamin said.
Students can catch Point Park on Saturday at 2:30 p.m. against Indiana University East. Then, Point Park begins a busy October with five matches in the span of 10 days. However, for Roell and the team, it's just business as usual.
"We're going to rest before the craziness begins," Roell said. "Traveling on a bus and staying at hotels kind of throws you off course with what you are used to, but by resting the days between games and taking care of our bodies we will be ready for the matches to come."