Molly Burke kicks off Speaker Series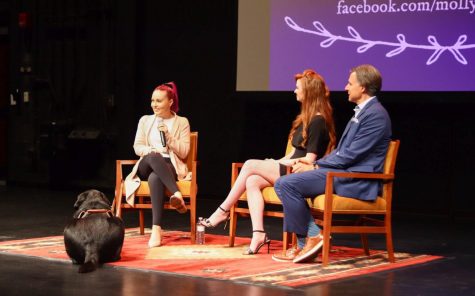 Molly Burke is a 26-year-old motivational speaker and disability rights activist, but many commonly know her from YouTube. Burke uses her large platform on YouTube to post weekly videos about mental health struggles she has faced since becoming completely blind at a young age. She reaches a large audience with her subscriber count of 1.9 million, and her videos help spread light around the world.
On Sept. 12, Burke spoke about her life experiences and challenges with empowering words of encouragement. She visited the Pittsburgh Playhouse as part of Point Park's Media Innovators Speaker Series. Profits from the event went to the Mira Foundation, which provides guide dogs to those with visual impairment, and is where Burke purchased her dog, Gallop.
This event sold out, and around 7 p.m., Burke walked toward center stage with her dog Gallop in hand. Her voice echoed through the room as she demanded the audience closed their eyes.
"Imagine if this was your world and you woke up every day in the darkness. Now open your eyes. That was only 10 seconds of darkness, but this is my entire life," Burke said.
Burke wanted everyone in the audience to leave feeling empowered and emphasized the idea of finding hope through acceptance and love.
Burke described the experience of losing her eyesight as stressful. At the age of four she was diagnosed with retinitis pigmentosa, a rare disease that causes severe vision impairment. The doctors knew Burke would eventually lose her eyesight but could not declare when. She said she lived in a world of anticipation, not knowing when she would lose her vision. This not only impacted her academic world, but every aspect of her daily life. She began learning braille before she went blind and even spent the entirety of one summer in advanced braille training.
"Going blind wasn't a possibility," Burke said. "It became my reality."
She eventually realized her world was "seeming a little less vivid" and "black was getting grey."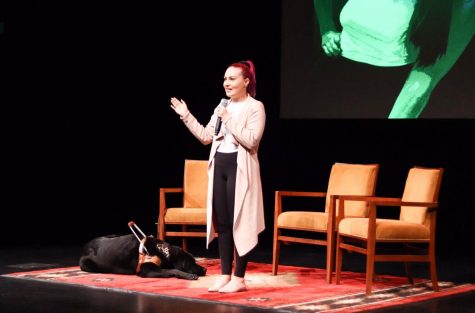 As part of her talk, Burke fully described the detriment of intolerance. Once she lost her eyesight, Burke was the target of repeated bullying and gaslighting from people around her. A group of girls took advantage of her disability and under the guise of a makeover, they wrote hurtful words on her face and took photographs of their work. Burke's own high school counselor thought that Burke was faking her blindness for attention. She said these experiences made her feel truly alone. 
Burke was soon diagnosed with situational depression which impacts one in five people. She struggled with constant suicidal thoughts. "It felt like a piece of me was dying, and I just had to watch it go," Burke said.
Burke's mother inspired her to keep on living.  Her mother had Burke trace the letters embedded on the silver piece of jewelry that spelled out the word "hope." Burke started to rediscover what hope now meant. She realized that the world keeps going and that people continue living. She joined a band and began dating her band membe, which she does not recommend. Although they didn't last, he taught her many lessons that she is grateful for. She said he showed her that unconditional love does exist and that she is worthy.
Once Burke graduated high school, she realized she did not want to go to university. She decided to move to downtown Toronto and buy an apartment, and she did this entirely on her own. She decided to travel, and she did exactly that. At the age of 18 she became a motivational speaker and shared her journey around the world.
Things took a slight turn as she was speaking at an event and fell off the stage which resulted in a broken neck. She suffered PTSD from this incident, and it led to her creating a YouTube channel. She began to spread her story in a different way, through the internet.
Burke doesn't want to be remembered as the "blind girl," she wants to be remembered as "the girl who never gave up," and she wants everyone to find hope. Happiness is a choice in her eyes, and can be achieved by anyone who puts in the work.
Molly left the audience with one last empowering line that referenced the movie Pitch Perfect: "Own your fat Amy, own your blind Molly."
Megan McMahon, a sophomore funeral service major, attended the event and said she absolutely loved it. She has been a longtime fan and was excited to hear that Burke was coming to the Playhouse.
"I watched her on YouTube for a while, and I just thought it would be really cool to hear her talk," McMahon said. "I was very impressed with how well-spoken she was and how moving and funny she was at the same time."
McMahon said she felt empowered and inspired once leaving the theater and expressed joy at the opportunity to meet such a unique individual.
"She had such a good overall message," McMahon said. "It's not just like 'love yourself, be yourself,' she has a lot of stuff to back it up."
Burke is the first speaker in the Center for Media Innovator's Speaker Series. The series aims to provide students with presentors who have real world experience in media.
Future speakers include Quil Lawrence, Jim Acosta and Neda Ulaby. Lawrence will present next on Oct. 17.