Pioneer Public – Bethanie Moreschi
Written By Hannah Walden, Co-Features/A&E Editor
September 25, 2019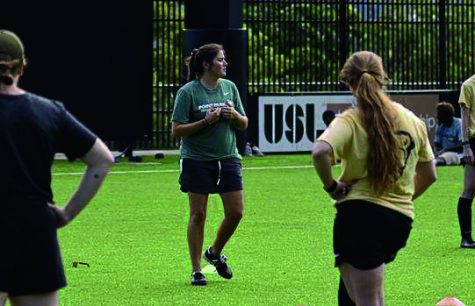 After growing up the oldest child and being a teacher and mentor to her siblings, it's no surprise that Bethaine Moreschi became a teacher and soccer coach.
"I have seven younger siblings between the ages of four and 25, so I grew up around a lot of kids," Moreschi said. "I loved being the oldest and being able to play school and teach them. In addition, my dad is a teacher and has been a head high school coach for 18 years, so I think maybe it's the family business."
For the past six years, 28 year old Moreschi has been teaching. The first three years were in a traditional classroom, but the past three years, she has been teaching third grade learning support math and ELA online.
"I liked working in traditional classrooms, but I love my online job," Moreschi said. "It gives me more flexibility to teach and coach at the same time. I'm a huge fan of teaching and engaging students while utilizing technology, so the online environment is a great place for me to be challenged."
While Moreschi teaches during the work day, she is spending the rest of her time coaching women's soccer. She has been coaching since she graduated from La Roche University in 2012 with a double major in elementary education (K-12) and special education.
Starting at Chartiers Valley School District, Moreschi was the assistant coach during the 2013-2014 season. Following that, she was the head coach of her high school alma mater, North Hills School District, from 2014-2017. She was then the assistant coach at La Roche University from 2017-2018.
"My favorite memory from coaching soccer was when my high school soccer team made the playoffs for the first time in school history," Moreschi said. "It was our team goal and reaching it was great to be a part of. I loved watching my team set a goal and reach it."
"I feel like having had such an incredible college experience is something that really helps me in this new position at Point Park," Moreschi said. "If you are having a great experience as a student athlete, that leads to achievements both on and off the field."
This semester is Moreschi's first season coaching for Point Park's women's soccer team, and she plans on incorporating a team-building technique she used on her online courses.
"We have a really great thing we do at the end of each class which is called 'The Shout-Out Wall,' in which kids get to raise their hands and give classmates a shout-out for [their] great work," Moreschi said. "It has become my favorite part of class. It is really sweet to hear each of these kids talk about how great their friends did. We have started adopting that on our team at PPU as well…and the women's soccer team has a great time with it."