Pioneer Public – Pablo Uribasterra
Written By Tia Bailey, Co-Features/A&E Editor
September 18, 2019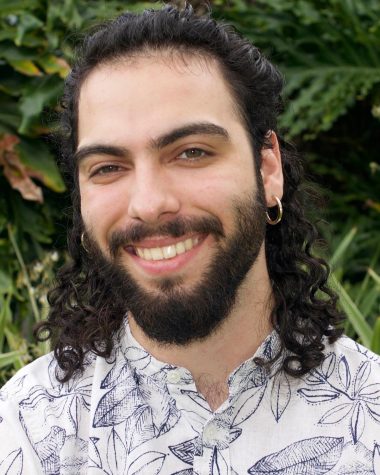 Since he was 12 years old, Pablo Uribasterra has written about 50 songs. Uribasterra, a sophomore musical theatre major, has recently released an album onto all streaming platforms titled, "Quinceañera."
Uribasterra has known he has wanted to be in the entertainment industry for a while now, starting with musical theatre in high school.
"I've had a one-track mind since freshman year of high school," he said.
It is because of his one-track mind, Uribasterra has been involved with a number of organizations on campus, including Point Blank Comedy where he is the co-president and COPA theatre club.
He has also just been cast as Friar Frances in Point Park's production of "Much Ado About Nothing."
"It's my first Shakespeare show ever, so I'm really excited to jump into that for the first time," he said.
Outside of Point Park, Uribasterra keeps busy. He writes his own songs, music and even comedy content, as he co-wrote Point Blank Live last year.
"I've been interested in comedy for a long time," he said. "I grew up doing characters and voices and impressions, and it's a dream of mine to be an SNL character."
He also plays piano, drums, melodica and any "piano-type instrument."
Most recently, Uribasterra has released an album, putting his favorite songs and a few others together to create a story arc for the album.
"I just decided it was time to put out something official," he said. "It was just weird to have so much work sitting there that I could only show you if I sat down at a piano and played and sang."
It took about six weeks to record his album, and Uribasterra did it himself with the help of two high school friends. He wrote the songs and lyrics, one friend mixed it all together on a digital keyboard and GarageBand, and the second friend made cover art for individual singles and the album. Originally from Miami, Uribasterra wanted to have it all done and recorded before he flew back to Pittsburgh for school this semester.
"All the instruments you hear on the album are generated through the keyboard," Uribasterra said.
After he graduates, Uribasterra plans to do anything and everything in entertainment.
"I'd really like to join the Upright Citizens Brigade (UCB), which is one of the biggest improv training schools," he said. "I'd really like to get professional improv, sketch-comedy-like training, because that's how a lot of people get booked on TV shows for comedy and stuff like SNL."
He would also like to audition for theatrical productions, films, TV shows and more, stating that he wants to put himself out there as much as possible.
While he is still in school, Uribasterra is still going to continue writing and releasing music. He submitted for Pioneer Records, so he plans to work with them on another album if he's chosen as the artist for this year. If not, he still plans to release an EP either way, which should be out this upcoming spring semester.