Pressure to find future jobs bears down on students
Career counselors advise on finding careers
Point Park University boasts of more than 100 undergraduate, masters and doctoral degrees. More than 4,000 full-time and part-time students are enrolled, according to data from Fall 2018. With five schools to choose from, and possibilities of selecting multiple majors and minors, each student has their own individual path they're creating for themselves.
And yet, every single student has a single ambition upon graduating: find a job. A well-paying one with benefits, if it can be helped.
Maintain a steady job, keep up a high GPA, make enough auditions and pad the resume with enough practicums and internships: these are just a few of the concerns weighing on Point Park students in their four-year collegiate experience. In a study done in spring 2018 by the American College Health Association, 53.4 percent of college students reported feeling hopeless sometime within the last 12 months, and 87.4 percent said they felt overwhelmed by all the responsibilities in their lives.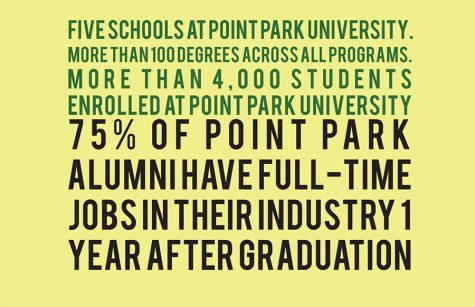 75% of Point Park alumni have full-time jobs in their industry one year after graduation, but the uncertainty lies within that 25%. The Career Development Center at the university has a career counselor for every school.
Career counselor Erin Howard for the Schools of Arts and Sciences as well as Education, concurred with many students' feelings that there is pressure to find successful careers during their collegiate experience.
"I find that students get really scared, especially [with] that student loan debt coming in at the end," Howard said. "The fear of moving back in with their parents after four years of independence, that kind of thought looming is also very scary, not only for the parents but the students. So there's definitely a ton of pressure out there."
If a student is just looking for stress relief, Howard recommends to learn techniques for managing stress, something else she helps students with. One of her personal favorites at the moment is art therapy.
In her experience of advising students, the School of Education has more "straightforward" guidelines for how to shape teaching careers compared to the School of Arts and Sciences; their process that can "really [be] more flexible," according to Howard.
While Conservatory of Performing Arts (COPA) career counselor Monica Ritter is specialized in that field, she assists COPA students with standard career preparation by giving resume and cover letter advice, preparing students for interviews, helping with job search planning and discussing career development resources in classes. Ritter acknowledged that COPA students have a unique experience in feeling pressure to be successful after graduation.
"COPA students often talk to me about their post-graduation goals using the term 'dream' in front of 'job'," Ritter said. "They tell me the stories of how they discovered their fields and the inspiration to create that has stayed with them from that moment. Whether in dance, musical theatre, cinema, animation…we are often talking together about an internal drive to get to that place where their work can be seen and appreciated. What remains constant is the drive for the dream, and that can sometimes feel very much like 'pressure'. It's an internal desire, wanting to do well, wanting to succeed, wanting to make the most of their training. Some students may feel a pressure to show everyone that they have been speaking to about their dream, how they are succeeding. The amount of pressure or type of pressure depends on the student."
Despite this pressure, Ritter said that COPA offers many opportunities for students to succeed. 
"COPA programs are active and hands-on offering so many opportunities to collaborate and create," Ritter said. "The experiences in and out of class require discipline and practice and an openness and desire to learn and master new techniques and skills. Master classes, classroom speakers, auditions and workshops enable students to meet professionals who can offer advice and connect them to outside opportunities. As a COPA student, your faculty is working so closely with you, helping you develop your unique style and approach. They know and understand where your pressure points are and can talk you through them."
Ritter has ties to other organizations such as Women in Film and Media (WIFM), and the National Association of Colleges and Employers (NACE) that assist her in providing both opportunities for students and relevant research that will help students find successful careers.
COPA is not the only school in the university that offers unique opportunities for students. The Rowland School of Business ran its first trial run of the Cooperative Education (co-op) Program, and in 2017 it was officially integrated into the school. A co-op allows applicable undergraduate juniors or seniors to be a paid full-time employee with a company while earning six credits per co-op placement.
Jessica Hobson is the university's Cooperative Education Specialist. After majoring in Human Resources Management and Technology in her undergraduate education and obtaining a Master's degree in Organizational Leadership, Hobson has been able to coordinate co-ops for students through her professional experience in student engagement, leadership development and recruitment.
"I became a Cooperative Education Specialist in order to help connect Point Park students to competitive employment experiences as early as junior or senior year," Hobson said. "Since [the] program's inception, we have placed over 50 students, providing connectivity to real-world, hands-on, degree related experience."
The list of companies that Point Park students can complete a co-op with include the Allegheny County Department of Human Services, BNY Mellon, Phipps Conservatory and Botanical Gardens, the Pittsburgh Playhouse, Northwestern Mutual and the U.S. Military, among many others.
According to Hobson, the advantages of completing a co-op are numerous. Being paid a full-time wage can help students toward paying their tuition and other living expenses, not to mention working in a professional environment bolsters students' confidence and allows them to network with other working professionals.
One of the biggest benefits of doing a co-op, Hobson said, is that when a co-op is successful, there is a high chance that the student will continue to work at that company or in a similar industry.
"I do believe that all students would benefit from participation in co-op," Hobson said. "As a form of experiential learning, co-op provides an opportunity for students to jump-start their career while still connected to the safety net of a university setting."
As much as the university is present to, in Hobson's words, provide a "safety net" for students, Hobson believes that an active cooperation between the Career Development Center and students is the path for students to develop successful careers.
"A flower doesn't grow overnight and you won't get a job overnight, even if you graduated yesterday," Hobson said. "It takes time. Let [the career office] help you while you have time to spend. By working with career counselors upon arrival to the university, students provide themselves with time for networking, job shadowing, interview preparation, and may even have the opportunity to participate in one or more experiential learning opportunities. Students must realize that they are responsible for leading their career journey. The more they put into it, the more they will get out of it."