University welcomes new students with week of events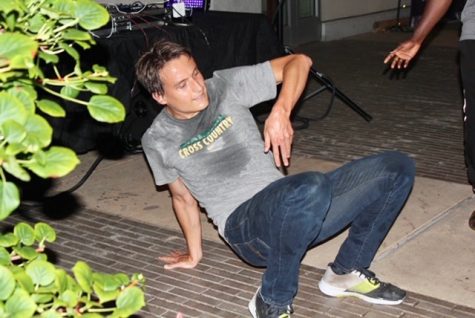 From Aug. 26 through 29, several student organizations put on events all around campus to welcome a new class of freshmen and returning students alike to another year at Point Park University.
The week kicked off in Lawrence Hall Ballroom with Monte Carlo night on Aug. 26. Upon entry, students received a free t-shirt and keychain as well as 40,000 "dollars," which students could trade in for raffle tickets. One ticket cost 1,000 "dollars." To increase their chances of winning a raffle drawing, students could play games such as Texas Hold'em Poker, Roulette and Blackjack among many others. Freshman broadcast production and media management major Zoe Vitelli had plenty of fun, but was a bit surprised that everything was taking place on school grounds.
"I don't know any other college campuses that allow their students to fake gamble," Vitelli said.
Some students barely broke even, while others had the luck of the draw and earned hundreds of thousands of "dollars." Those who weren't as savvy with card games participated in karaoke in a separate room, where hits like "Dream On" by Aerosmith and "Honey, Honey" by ABBA were sung magnificently by brave souls part of the student body.
Next was Pioneer Pub, which was held in Lawrence Hall 200 on Aug. 27. The event was presented by the Office of Student Development, who managed to raffle off a total of six tickets to the musical "The Lion King," coming to the Benedum in September. Two of these were part of a raffle that everyone in attendance entered and were awarded at the end of the night to freshman dance major Segren Rollin.
"I didn't think I had a chance," Rollin said, shocked to have won. "It's my dream to be on Broadway, and I have never seen 'The Lion King.' I literally called my mom and started crying."
However, the remaining four tickets required some mighty knowledge of all things Point Park. Students competed in teams of various sizes during a "Kahoot!" style trivia game based on Point Park's policies, athletics and academics. By the end of the night, students in Team 17 came home with the prize.
Freshman English major Robert Hawley-Potter said he liked Pioneer Pub the most because "it brought a lot of people together to learn about the school."
Trivia was not the only draw to Pioneer Pub, as the name suggests the event had around 20 oddly-named, yet simply savory sodas to sample. From Bug Barf to Butter Cake, a favorite among attendees, there was a flavor to satisfy everyone's taste buds.
Things went primal on Wednesday night as the SAIL Office presented "Jurassic World: Fallen Kingdom" for outdoor movie night in Pioneer Lot. Volunteers from the Campus Activities Board (CAB) made things sweet by providing free popcorn and ice cream for all those in attendance.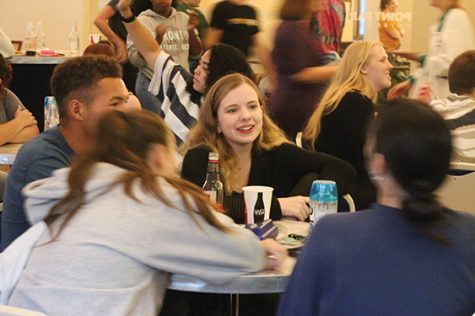 CAB rounded the first week off with 'Welcome to the Jungle' in Village Park on Aug. 29. The event saw host to a henna tattoo artist, casual cornhole, free specialty mocktails, chocolate covered pretzel rods and a DJ. It didn't take long for a mild moshpit to form right in front of the DJ booth as hits from Migos, Drake and other pop artists pierced the soundwaves of the university.
"It was so fun to be with all of my friends out on the dance floor," Rollin said.
Overall, the week's events had an outstanding turnout, mostly due to the enthusiasm of the incoming freshman class and their eagerness to get involved.
"[It] was a great way to start the year," Vitelli said. "It gave the freshmen an opportunity to see more than just other freshmen at the school."
Vitelli wasn't the only freshman to give the experience high praise.
"It really allowed for us to meet other people from many different majors and create connections," freshman journalism major Frank Smith said. "I still say 'Hi' and talk to many people I met through Welcome Week activities."
This hasn't gone unnoticed by organizations such as CAB who plan these events.
"I'm definitely noticing a lot more outgoing freshmen this year," CAB member Emily Rockwell, a junior sports, arts entertainment management (SAEM) major, said. "There's definitely a lot of people that don't know each other talking to each other, and I love that."
Some students have noticed how active student organizations and school personnel are with the student body.
"I came from a school with a very negative and fake attitude, so hearing everything Point Park said it felt so genuine," Smith said. "I mean come on, the president has been so active with us. Some of my friends at different universities don't even know their president."
Welcome Week ends with the Student Organization Showcase on Sept. 3, from 4 p.m. to 7 p.m. in the Lawrence Hall Lobby. Here student organizations that signed up will set up tables and showcase their organization with the opportunity for students to sign up and join their organization. There will also be a 'Get to know the Office of Alumni Engagement and Giving' in the Lawrence Hall Lobby from 10 a.m. to 2 p.m. and 'Connect with CAB' in Village Park from 9 p.m. to 11 p.m. all on Sept. 4.