DC's 'Joker' breaks October domestic box office record on opening weekend
Written By Tia Bailey, Co-Features/A&E Editor
October 9, 2019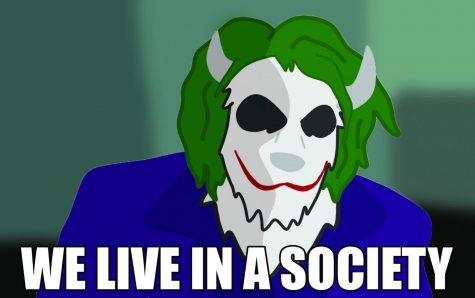 On Oct. 4, DC released "Joker" to theaters, starring Joaquin Phoenix as Batman's infamous villain. The movie is advertised as a drama/thriller film, and it has an R rating with a two hour and two minutes runtime. 
"Joker" shows the backstory of the villain before he became the Joker; his name was Arthur Fleck, and he was an aspiring comedian living in poverty with his mother. He has a condition where he will burst into laughter at inappropriate times, which causes him trouble throughout the film. 
The movie follows Fleck as he works as a party clown for various jobs, such as holding a sign for a store and dancing for children in a hospital. He is beaten up by teenage boys multiple times, and an array of other things go wrong for him. 
Throughout the movie, it is difficult to tell if the events you are seeing are actually happening, or if they are just an illusion playing in Fleck's mind. Fleck begins to go insane, and he begins to harm and even kill people. Some family issues are revealed to him, he is constantly being beaten up, he is made fun of by his idol on national television and he is living in poverty. All of this and more attributes to his impending insanity. 
The movie is a standalone film, so while not connected to any of the other DC films, it still drops general references in throughout. We briefly meet a young Bruce Wayne, who even as a young boy plays a big part in the Joker's story, and at the end we see the infamous death of his parents. 
"Joker" deals with issues such as mental health and poverty. When Fleck begins to kill, he does so in his clown costume from work. This causes him to unintentionally become a symbol for the lower class, as he killed a group of upper-class males. Citizens of Gotham begin to protest around the city and riot against the upper-class while wearing clown masks. 
There is some controversy surrounding the film, as some people believe that the depiction of violence in the movie is wrong, and that it uses mental health as an excuse for things such as mass shootings and other forms of violence. In the film, the Joker is a symbol for violence, and the film ends with Gotham City in chaos because of his own violent act. People believe this is harmful to put in the movie, especially in our current society where mass shootings happen so often. There were shooting threats made to several theaters around the country during the movie's release, so some theaters made sure to have extra security the opening weekend during the showings. 
"Joker" is a dark origin story for a fan-favorite villain. Despite its controversies, it did exceptionally well at the box office on its opening weekend.