Men continue dominant, undefeated streak
Pioneers rack up three more RSC wins over span of five days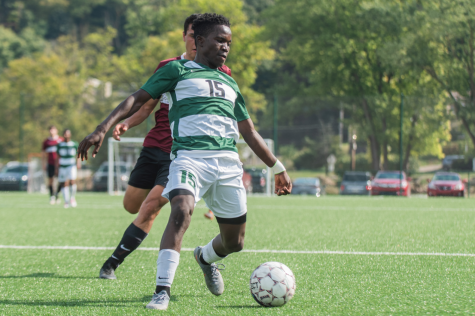 Dominant is the best way to describe the Point Park men's soccer team.
In a hectic week that featured three matches in the span of five days, Point Park racked up three statement wins. Two of the wins were against conference opponents Midway and Asbury. Meanwhile, the first of three victories came in a friendly match against Salem University.
In the last three games, Point Park has found the back of the net 14 times. Mitchell Roell, a junior striker from South Park, scored a hat-trick against Salem and scored twice against Midway. His five goals added to a season total of nine goals.
"Scoring any amount of goals is always a great feeling, but scoring three goals on a field you're not used to and in a competitive match feels even better," Roell said.
Roell said that featuring against a non-conference opponent before heading back to RSC play was a great way for the team to prepare and try out new tactics.
"This game was competitive and we learn and get better with every game," Roell said. "Continuing our win-streak is great. We had to work hard for the win against Salem when we were up 4-0, because the other team was still battling. We knew the field and it was not the best grass field, so it was hard to control the ball. We tried to put pressure on them and force turnovers."
Wessel Rietveld also found the back of the net against Salem. He said that the Pioneers dominated the match right in the beginning. He scored the first goal for Point Park, coming in the 24th minute.
Rietveld, a senior, also started against Midway, but earned a rest against Asbury. Despite being rested, Rietveld watched and kept a keen eye on the match. He said that Point Park refused to be intimidated by the away fans in Kentucky.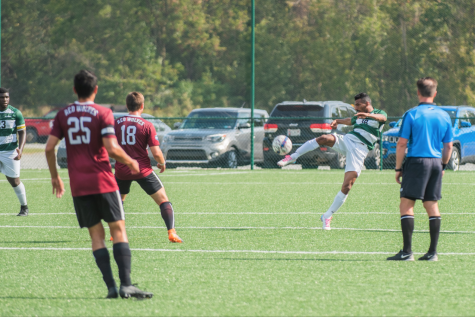 "We just played our own game," Rietveld said. "We just did what we were good at and it resulted in another win. We are very confident, right now. We believe that we are the best team in the conference."
The Pioneers aren't focused on other teams, according to defender Conner Kelly. 
"We stick to our game plan each and every game and we keep good chemistry and moral through the team," Kelly, a sophomore, said. "Our recent wins have helped with that, so we're carrying our momentum and confidence into every match."
Kelly said it's also important, despite the team's success, to remain humble. The biggest message is to not disregard or underestimate other teams.
The Pioneers have a busy week like the last. This week, the Pioneers will host Washington Adventist on Monday for their second, non-conference meeting this season. Then, on Thursday, the Pioneers will hit the road again to face Ohio Christian University. 
Recovery, Kelly said, is a huge part of Point Park's success.
"[Head coach Jeroen Walstra has said] to take care of ourselves and continue to play just like we practice," Kelly said. "It's been hot out and we have had small breaks between game days, so taking care of our bodies and knowing our limits is important when we have tough stretches like this."