Men remain undefeated in RSC play yet again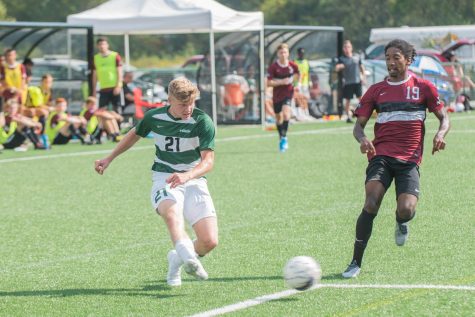 Point Park has no intention of slowing down right now. 
The Pioneers men's soccer team recorded two more victories last week, extending their win streak to double-digit numbers. Point Park has been undefeated since Sept. 4, marking 10 victories in a row. The Pioneers chugged away, managing to secure wins with long stretches on the road and matches within only hours from each other.
It's business as usual for the team, who has their sights set on RSC glory and trophies. The members of the men's soccer team do know, though, to keep it one game at a time. They're also keeping faith and building confidence in the way they're playing, according to defender Conner Kelly.
"Our morale is incredible," Kelly said. "We just have to stick to our game plan each game and focus on winning. We're dedicated to continuing this streak."
Point Park spent three straight matches on the road two weeks ago. This past week, the team returned to Highmark Stadium to take on Washington Adventist University. Think you've heard this before? That's because the Pioneers already took on Washington Adventist back on Sept. 12. The Pioneers didn't falter in the second meeting, securing a 3-1 victory.
Geert Bijl found the back of the net twice, with Christopher Ciucanu notching the other goal. Meanwhile, for Washington, Francisco Villanueva began scoring in the second half. However, it was too little, too late against the red-hot Pioneers.
Wessel Rietveld said that playing Washington Adventist at Highmark Stadium gave the Pioneers an advantage, mainly due to the size of the pitch. The Dutch international said that the 10-game winning streak is a testament to hard work.
"Our field is a lot bigger and we're used to it, so it was easier to play possession and dominate the game," Rietveld, a senior, said. "It's the best feeling to get rewarded for all the hard work we are putting in. Right now, we're just playing great soccer with a good level of energy."
Three days later, the Pioneers headed west to Ohio, facing Ohio Christian University. Back in conference play, the Pioneers dominated with a 3-0 victory and a clean sheet. Yuki Takeda, Daan Stormink and Bijl found the back of the net. 
Kakanou Fotie, a senior defensive midfielder, said the key to success in Ohio was the team's depth.
"I credit our playing style and organization as the key to success," Fotie said. "We discovered a playing style and identity that utilizes our strengths to the maximum which allows us to dominate against a lot of teams we've played so far. Along with our depth, this allows us to bring on players with different playing styles, which results in many people that contribute to the team's success with goals and assists. [That] makes us play harder, knowing the next person coming on can score as well."
Kelly, who recorded an assist on Bijl's goal, said that depth and getting other players involved with scoring helps the team.
"Getting everyone involved is important," Kelly said. "We're very happy to have such a deep bench to call on players to help the team."
After spending 10 days featuring in five matches, Point Park has a chance to take a rest. Their next match isn't until Thursday. However, it's a big one for the Pioneers, as they host city rival, Carlow. However, Carlow has yet to win a match this year. Rietveld knows that the Pioneers cannot undermine their rival.
"We just have to keep doing what we are doing, but can't do anything crazy," Rietveld said. "That's what got us the 10 wins in a row."
Meanwhile, Kelly said that the team will rest, but get good training sessions in. 
"Getting a break from our recent streaks of games is good for recovery," Kelly said. "We're ready to translate the break into a good match against Carlow."